Happy Birthday Van Gogh!
Celebrate one of the most popular and influential artists in the history of western art's birthday, Vincent Van Gogh.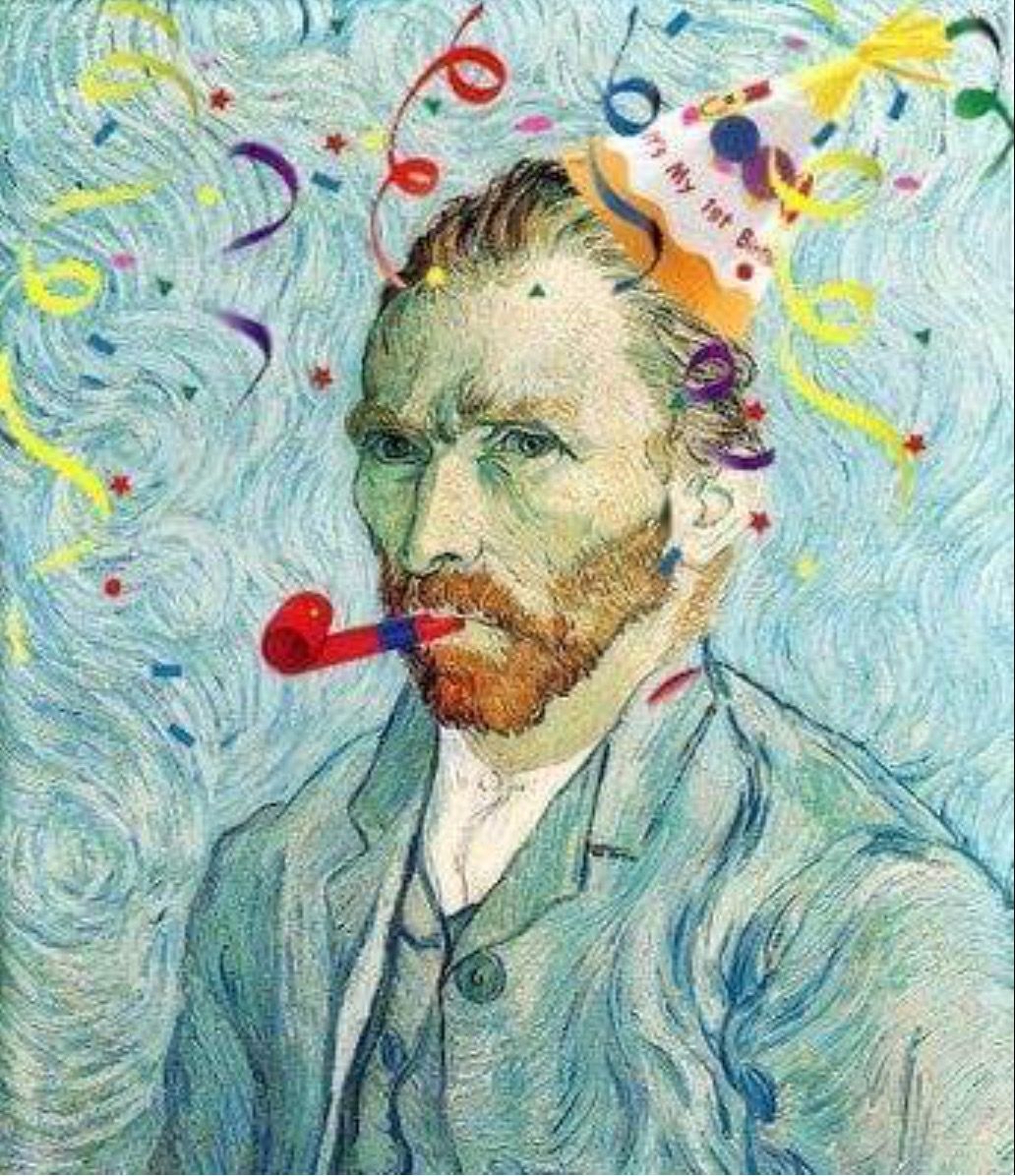 Vincent was born on March 30th, 1853.
He tried a bunch of different jobs before deciding to become an artist at the age of 27. He lived quite the tragic and unappreciated life of a struggling artist and considered himself a failure.
He was inspired by various sources such as Dutch genre paintings and Millet's realist paintings/contemporaries. His biggest inspiration was actually from Japanese woodblock prints.
For only being an artist for 10 years, with no formal training, he was incredibly productive. He made over 900 paintings and drew more drawings/sketches. If you add it all up, he was creating a new piece of art every 36 hours! That's insane.
On top of all that, he wrote many postcards and letters that included sketches.
He had close relations with artists Paul Gaugin and Emile Bernard.
Due to his poverty, Van Gogh had no money for models or new canvases. So improvised by painting himself and painted over many of his pieces. Can you imagine how what genius artwork is underneath his other work?
There are many speculations in regards to Van Gogh's famous ear cutting incident. Experts think it was from an argument with Paul Gaugin at the Yellow House in Arles. Although some believe that Paul cut Vincent's ear off and said it was Vincent who did it to avoid the police, the outcome of Vincent mailing his ear to a prostitute in a nearby brothel is 100% true.
Vincent sadly suffered mental health problems and voluntarily admitted himself into an institution where he was for a year.
It was at this institution that he created some of his most famous pieces including, The Starry Night.
After leaving the asylum, he shot himself in the chest on July 29th, 1890, . He died two days later. His last words to his brother were 'the sadness will last forever'.
He has been an inspiration to other artists of all kinds since.
Don McLean wrote a song about him in 1971 called " Vincent" .
There was an animated feature film called "Loving Vincent" in which each frame is painted by hand like his art. It was created by 125 painters and took over 6 years to make.
One of my personal favorites is an episode on Doctor Who. No you don't have to be a fan of Doctor Who to watch the episode. It will bring tears to your eyes. Season 5, Episode 10. Vincent and the Doctor. If anything, watch the end of the episode. Worth it.
Want more Vincent? There's an exhibit coming to Seattle, WA!
Starting September 10th 2021 through January 2nd 2022.
Tickets are selling fast though!
https://vang....com/seattle/
We also have an awesome class coming up on April 10th and on May 21st at 7pm called Starry night Lake View. Sign up here:
https://www..../event/511901
https://www..../event/524921
We also have a Harry Potter themed Starry night on May 28th at 7pm:
https://www..../event/513810
Happy Birthday Vincent 💕 though you weren't celebrated in your lifetime, we will celebrate you now 🎉
https://arts...gLStrYjblBRKA
https://www....ife-1853-1890