A How-To Guide to Acrylics
First time painters can find the idea of taking a class pretty intimidating, and we get it. It's hard to envision oneself painting an entire landscape or elephant in just a couple hours with no previous experience. Even though all our paintings are designed to be beginner-friendly, we thought we give you a quick rundown of common acryllic paint techniques so you can feel more at ease while you try something new!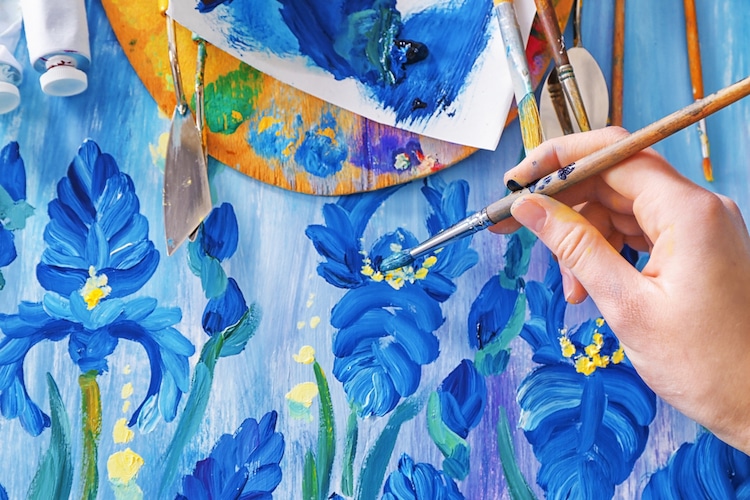 Image from Shutterstock
Acryllic paint is a water-soluable, polymer-based paint, which means you the pigment is suspended in an emulsion of plastic and it can be mixed, manipulated, and broken down with water. It's quick-drying, making it easy to go over mistakes and add layers. Because it's so multifunctional, there are a lot of fun, easy ways to get nice effects!
Dry Brush: This is exactly what it sounds like. You take a dry brush and apply the paint to the canvas. Because there's no water smoothing the way, it creates rough, scratchy texture that can add dimmension to a painting.
Washing: This is a wet-on-wet technique, where you use water to dilute the wet acrylic and spread it on the canvas. It's much smoother to apply. You can use just a little bit of water and quickly fill the background, or you can add more to get a translucent effect, perfect for layering!
Stippling: This is dry brush technique that mimics the pen and ink skill of the same name. You apply the paint using the bristles of the brush to create tiny dots. The more dots you have in an area, the darker the shape looks. It gives creative shapes and is great for shading. It's also the way Bob Ross made his happy little trees look so great!
Splattering: This is the technique that is the most fun to try! You dilute the paint with water until you get a runny consistency, the splatter the paint onto the canvas. We use this technique often to create a smattering of stars in the night sky, or to create a unique, messy aesthetic to our abstract paintings.
We'll have more techniques for you next time, so no worries! With a medium so versatile, there's always something new to learn.