A Date Night to Remember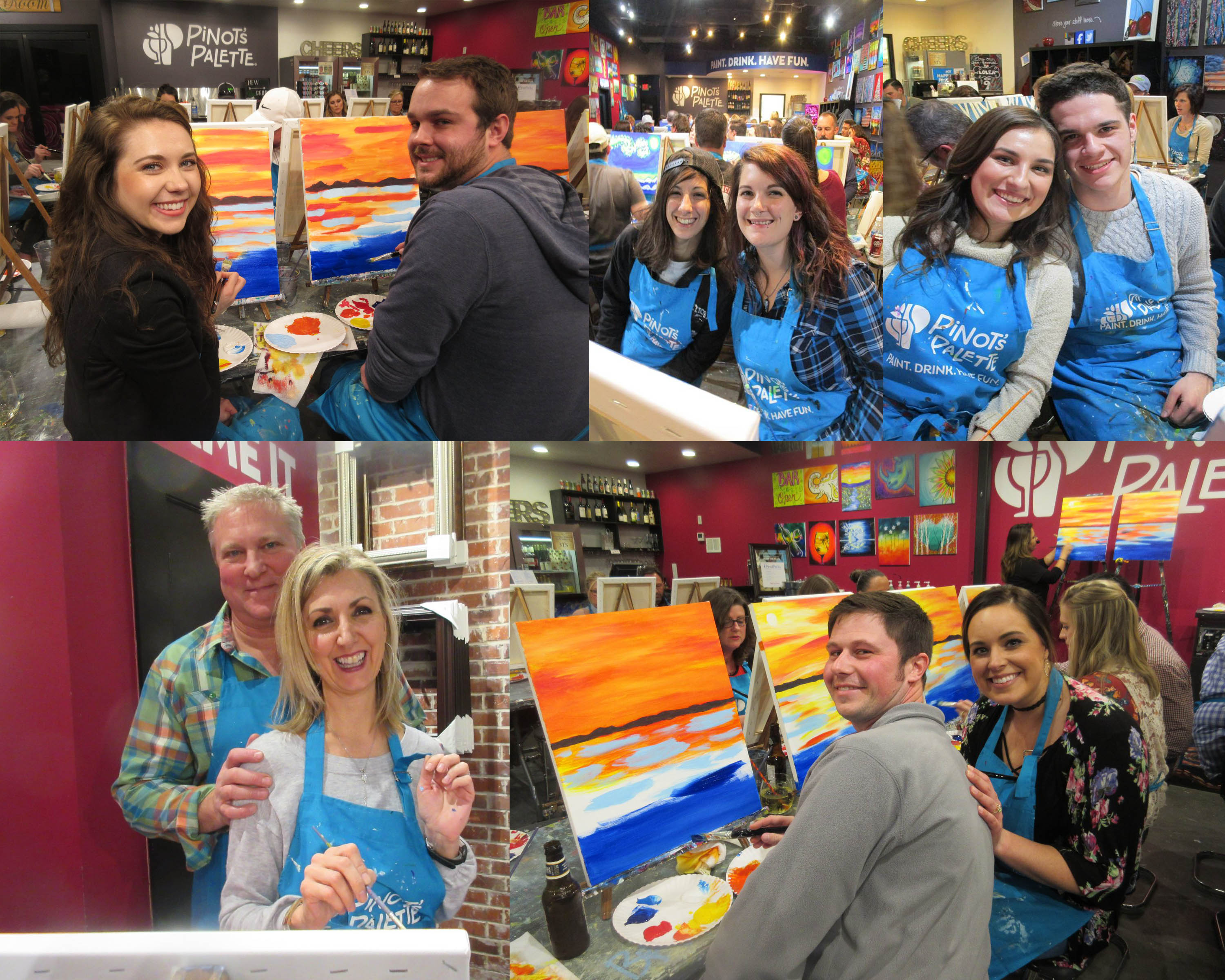 When was the last time you courted your sweetheart? Maybe it's been a while since the two of you had a night out together, one where you shut off the phones (okay, okay...put them on silent at least) and focused on being present in the moment without distractions. We can help change that!
At Pinot's Palette, that's what we're all about. Disconnecting from the digital world, the hustle and bustle of the daily grind, to reconnect with the ones you love and cut loose for a bit. Our date night classes are perfect for a couple's night out where they can paint side by side and watch their canvases come together to form one large masterpiece. Whether it's a competition between whose side looks better or 100% teamwork that navigates your brushes, it's sure to be a night to remember and a memory to take home.
It's easy to let those ever so important date nights fall to the wayside with everything else in life pulling you 10 ways at once. But there's no time like the present to surprise your dearest with a date night out, one where you can paint, drink, and have fun. We have an ample amount of date night classes available this week at all 3 local studios to allow our guests to squeeze in their Valentine's Day celebration when it's most convenient for them. Not sure which one they'd like to paint more? Surprise your loved one with a gift certificate and let them pick the class! You can grab one in person at any local studio, or even order one from the website and have it mailed or emailed right to you.
One more cool thing about our local studios is that they're conveniently located in an array of delicious restaurants to choose from, making your date night one step simpler. In the mood for Italian? Andolini's Pizzeria proudly serves housemade mozzarella and loads their pizzas with imported toppings for that raw, unapologetic taste Tulsans crave. (Their chicken piccata pizza is out of this world!) Maybe Tex-Mex is more your style? Our Riverwalk studio is right next to Los Cabos, while our Cherry Street studio's next door neighbor is Chipotle. Craving something a bit more raw? In The Raw next to our Broken Arrow studio is known for their delicious sushi spreads, rice bowls, and edamame so fresh you'd think they grew it in their kitchen. So grab a bite and a paintbrush, we'll see you soon!
#datenight #disconnecttoreconnect #couplesnightout #Andolinis #LosCabos #Chipotle #InTheRaw #ValentinesDay