Spooktacular Halloween FUN You Won't Want to Miss!
Something Wicked this way comes! Halloween is almost here! Have you gotten out your spooky decorations yet?! Why not add a personal touch to your collection of holiday decor and make a hand-painted work of art for your home this year?! We've got pumpkins, witches, black cats, and more! Some classes are for kids and some for the whole family, while others make a fun girls' night out, or are great for a Halloween celebration of any kind! We've also got some of our own Halloween Parties planned! Be sure to wear your Halloween costume for our costume party/ competition and be ready for some Halloween trivia, prizes, and special treats in store! Bring everyone you know in to create some artwork and have a fun night out, as you paint, drink, and have fun!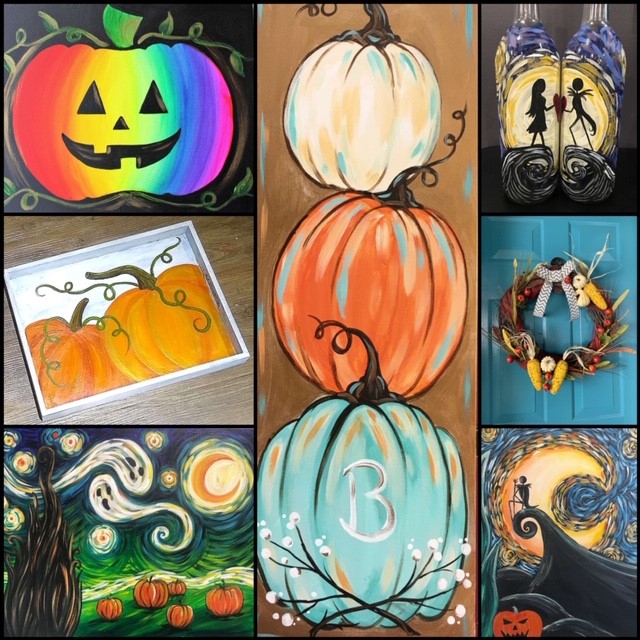 Check out some of these upcoming Halloween themed painting classes:
October 11th, 'Rainbow Jack-O-Lantern'!
* A '$25 Kid and Adult' friendly Black Light class, perfect for ages 7+!
Halloween may be spooky, but that doesn't mean it can't be colorful!
https://www..../event/359799
October 12th, 'Harvest Wreath'
*Create You own Wreath!
Celebrate the season of Autumn with this DIY Harvest inspired wreath!
https://www..../event/350768
October 19th, 'Pleasantly Pumpkin'
*Customizable Tall Canvas!
Bring some glamour and whimsy into your holiday décor with this monogrammed stack of pumpkins in stylish fall colors!
https://www..../event/359808
October 20th, 'Starry Heart Lovers Wine Bottle Date Night'
*New Wine Bottle Date Night Painting!
This wine bottle date night can go together to create one unique statement or separate them for two pieces.
https://www..../event/360197
October 23rd, 'Fall Pumpkin Wood Tray'
*New Wooden Tea Tray Painting!
Create a beautiful serving tray at this fun workshop! Our artists will show you how to stain, whitewash, and paint your tray to create the perfect addition to your Fall kitchenware.
https://www..../event/363865
October 26th, 'Trick or Treat Bags', 'Spooky Kooky Cat', & 'Starry Nightmare'
*$15 Trick or Treat Bags, Family Costume Party, & More Halloween FUN!
Paint your own Trick or Treat Bag from 10-12! Customize it any way you'd like! Join us for our Family Costume Party from 2-4 or our evening costume party from 7-9! We'll have games prizes and special treats!
https://www....vents/october
October 31st, 'Van Gogh's Starry Night Halloween'
*Costume Party and Halloween FUN!
Join us for this fun twist on Van Gogh's Starry Night - Halloween Edition at Pinot's Palette studio near you! "There is magic in the night when the pumpkins glow by moonlight." Halloween Costume Party with Trivia, Games and Prizes!
https://www..../event/363906
These are just a few of our upcoming Halloween Paintings! Be sure to check out our full October Calendar here:
https://www....vents/october
We hope to see you soon for one of our Halloween paintings! Bring all of your friends and family to join in the fun with you, as painting is always better with loved ones by your side!
Keep in mind that we do offer private events, if you're looking to celebrate a birthday, bridal shower, baby shower, retirement party, or anything else with a private painting class!
More information here:
https://www....rivate-events
We also offer corporate parties, so consider us for your next team building event! It's always wonderful to see employees working together and bonding over a shared experience!
Learn more:
https://www....porate-events