Break away from the generic and the conventional!
Your mind will reward you for trying something new and different! Try Pinot's Palette for an educational, creative and exciting experience. Oh... and there is wine too!!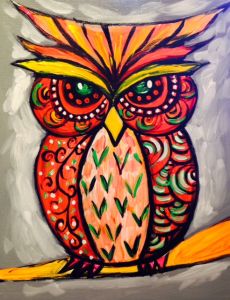 Nowadays it is rather difficult to find something that is stimulating both intellectually and creatively, but is also still fun! It is very easy to just go to dinner or watch a movie during the weekend. However, during those times it is very hard to have a conversation because talking during the movies is completely frowned upon, and it is very taboo to talk with your mouth full! It also requires little to no physical or mental effort to veg out and watch a movie or binge watch that Netflix series with your significant other. So what is there to do anymore other than those two infamous date night activities? With technology slowly taking over the world and minds of people, it is hard to do anything different!
Well what if you could find an activity that captures both creativity, intellect, fun and gives you a break from the technology world? When Pinot's Palette was founded in 2009 that is exactly what they had in mind, a revolutionary new way for people to stimulate all aspects of their mind while having fun with family and friends! Not only are you able to actually conversate with people, but you are also able to express creativity, learn from experienced instructors, and the best part: have some quality entertainment. Most people weren't born with the natural gift of art, for some drawing stick figures is even a stretch! And if we are all being honest we learned absolutely nothing from high-school art class, and most of us would never paint on our own…. Because we just don't know how! Which is why the experience at Pinot's Palette is so unique and rewarding because it gives us all the opportunity to do something we wouldn't normally do, and breaks us away from the robot driven and conventional ways of having fun that society is starting to grow accustomed too!
That is why it is very important to try new things, that strengthen all areas of the mind, and break away from the generic and comfortable!