Corporate Events
Thank you for considering Pinot's Palette for your upcoming event. Below are the general terms for booking our studio, including the links you will need to place a deposit and review our painting library. We look forward to helping you customize and plan your event!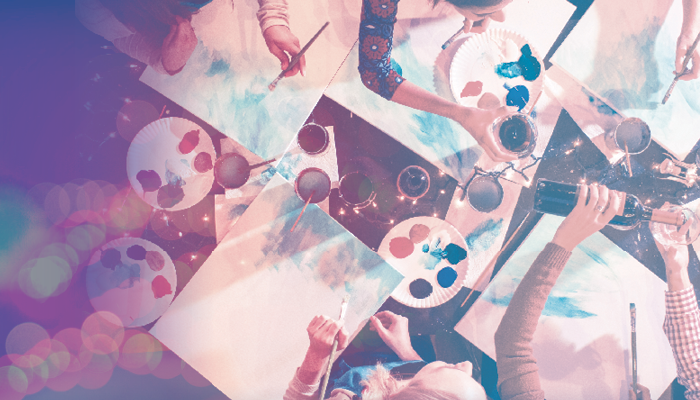 AVAILABILITY
Private events can be booked any time, subject to availability. We have two rooms to choose from, our Main Room, which can seat up to 42 and our Picasso Room, which can seat up to 16. You can check our calendar to see if the date and time you are interested in is open or discuss availability with our manager.
PARTY OPTIONS
If you are interested in team building activities, we have several options to choose from based on the needs you want to accomplish with this event. In most circumstances, there are not additional costs for the following team building activities:
• Individual Paintings - This is the Pinot's Palette original format. Everyone in the class paints and personalizes their own painting with the help of our artists' step by step instructions.
• Musical Chairs - You guessed it! When the music stops so do you. Each painting bears a unique touch from colleagues. Not for the retentively inclined--we're looking at you, Accounting!
• Mystery Painting - Stay on the edge of your seat as our skilled artist leads you through the painting! The resulting masterpiece is a mystery right up until the last step.
Team Building activities that can incur additional costs include:
• Collaborative Painting – Bring everyone together to create one large masterpiece. These are great to hang on the office wall after the event for use as a conversation piece. Yeah, you did that! One collaborative painting recommended for every 6-8 painters at the event. The cost is $45 per person.
• Jigsaw Puzzle - The workhorse of team-building events! Each person/team creates a painting representing a piece of a larger puzzle. We put all the pieces together to create one big picture (Best for smaller groups) - $100 additional fee.
PAINTING CHOICES
Once we find a date that works & the deposit is paid, we ask you to send us your top three choices for the featured painting for your party. We try to get you your #1 choice, but it helps to have a little flexibility in scheduling the artist. We prefer to finalize your painting choice no later than one week prior to your event. The painting choices can be viewed here:
https://www....nting-library
Want something tailored to you and your group? You can also choose to have a custom piece made for an additional $200 artist's fee.
PRICING
The cost is $40 per painter for a two-hour session and $50 per painter for a three-hour session. This price applies to groups with more than 10 painters. Parties with 10 or fewer painters will be charged a flat fee of $400 for a two-hour session and $500 for a three-hour session. All art supplies are included in the cost and aprons will be provided for guests to wear while they are painting with us.
Additionally, there is a 30-minute window before and after your painting time. This timing allows extra time for you to have fun with your guests.
Example: If we set a party from 7-9, that means we will start painting promptly at 7:00 and finish by 9:00. You should have your guests arrive any time after 6:30 and you would have until 9:30 to finish up any party activities. If you want extra time to Paint, Drink and Have Fun, additional time can be purchased at $50 per ½ hour.
BAR PACKAGES
With a great bar on site, all adult beverage needs will be met. Choose from one of our bar packages or bring your own for an additional fee.
Cezanne Classic - $10 per person
Two drinks per guest based on the Da Vinci Deluxe offerings
Da Vinci Deluxe - $25 per person
Unlimited drink package featuring our house white, house red, select beers and select non-alcoholic offerings.
Picasso Premium - $40 per person
Unlimited Drink Package featuring a variety of wines and beers, Crafthouse cocktails and all non-alcoholic offerings.
Hosted Bar – Host will be charged based on consumption at menu price
Cash Bar – Guests purchase their drinks individually at menu price. Our studio accepts both cash and credit card.
BYOB - $50 Fee
Wine and Beer only. Glassware and ice will be provided.
FOOD
Your group is welcome to bring in food for the event. For your convenience, we have bottled water, plates, plastic ware and napkins in the studio. We recommend using one of our preferred caterers, but it is not required. Please contact us if you would like additional information.
FRAMES
Send each guest home with a signature frame to complement their creation for an additional $40 per person.
DEPOSIT
To reserve a date for a Private Party, we have a $250 deposit. Once the party occurs with the, the deposit will be refunded. In host pay situations, the deposit can also be applied to the party total easily the day of the event.
You can place your deposit here:
https://www....porate-events
THE FINE PRINT
If your party is for 20 or more guests, we will schedule an additional artist to assist your guests at no additional charge to you. However, if your final guest count is below 20 painters, an overstaffing fee of $100 will be deducted from your deposit if you do not notify us of the reduced headcount at least 48 hours in advance.
Please note that instruction begins at official start time. While we may be flexible with a few minutes, starting class 15 minutes or more after the official start time will result in a fee of $75. Additionally, if the room is booked for another event, your party may be cancelled if it is not started within 30 minutes of its scheduled start time and your deposit will be forfeited.
CANCELLATION POLICY
While we regret to lose the opportunity to paint with you, our party cancellation policy is in place to protect the professional artists who are booked specifically for your party. For this reason, we firmly require a minimum of 14 business days (M-F) notice of cancellation before your party date to grant a deposit refund.
We will keep our eyes peeled for your deposit if you'd like to move forward, and please don't hesitate to contact us with any questions you may have! We take calls at the studio Monday through Friday from 9:00am – 4:00pm, but you can reach us through email anytime. Thank you for the opportunity to host your group and we look forward to hearing from you soon!
Cheers,
Team Pinot
Pinot's Palette – West Loop
WestLoop@PinotsPalette.com
(312) 600-9429