Calling All Artists!
Pinot's Palette, a leader in the paint-and-sip industry, offers talented local artists an opportunity to bring art to the community through a fun and entertaining atmosphere.
The West Loop will soon be home to a Pinot's Palette studio and we need an energetic, collaborative team of professional artists to instruct and assist our fun-filled painting events! Guests will follow your step-by-step instruction while they paint on their own gallery stretched canvases with studio quality acrylics.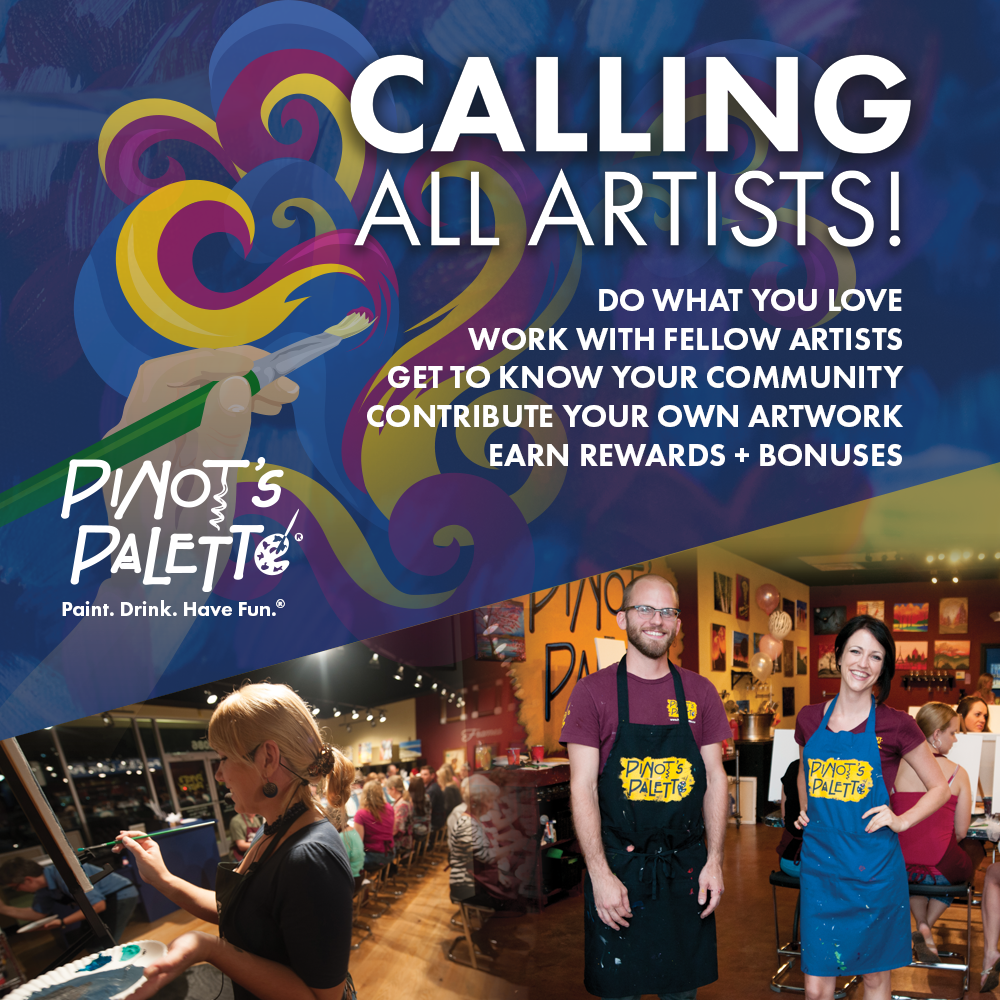 What makes Pinot's Palette unique?
- Lesson plans you can access online means you can easily prepare for a successful class on the go.
- Ongoing training, wine tastings/product testing and quarterly (fun) team building events!
- Access your upcoming schedules through our PinotAdmin.com site so you can easily plan your schedule.
- We pay our artists as employees (W-2) vs contractors (1099) which means we pay a portion of your taxes for you (and you take home more).
- Build your own Pinot's Palette portfolio! Participate in our national gallery of paintings and earn ongoing cash or "talent rights" for the ongoing use of your paintings nationwide.
- The more times your painting is used, the more you earn!We schedule you for 4 or 5 hour blocks of time so you're in control of the entire event - set up to tear down - and get paid for it.
Responsibilities include:
- Creating & Developing paintings to be taught in classes and used for promotional items.
- Developing & executing detailed teaching methods
- Instructing customers during class in an energetic, clear and well-paced manner while encouraging creativity and creating a relaxed, fun atmosphere
- Assisting customers and staff member(s) to ensure smooth class flow and promote customer painting success through teamwork and positive attitude.
Required Skills/Abilities:
- Ability to design and execute quality, acrylic paintings in various painting styles
- Proficiency in Microsoft Word (PC or Mac)
- Basic computer skills and internet knowledge
- Public Speaking or performance skills (comfortable speaking on a microphone)
- Time management and communication skills
- Ability to lift and move up to 25 lbs. and stand for long periods of time
- Reliable transportation
- Ability to work evening and weekend hours, as required
- Preferred Education/Experience: College Degree in Art or Design related field.
- Some experience leading a group of people (classroom or otherwise)
- Some experience in customer service
To apply, please e-mail westloop@pinotspalette.com with:
Your Resume
3 images of your original paintings
Availability
Compensation: Starting at $18/hour with bonuses, rewards and room for advancement
Start Date: May 2016
Fabulous Friends? Do you know other fabulous people who you think we'd love to work with? Our team is also seeking:
Studio Coordinator
Mobile Manager (Ideally a studio artist as well)
Bartenders