Your Year, Your Rules! How to Make Your Canvas Your Own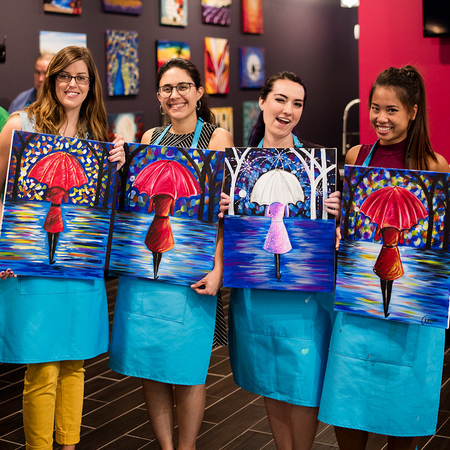 At Pinot's Palette, we support individuality and creativity. We are no cookie cutter paint and sip. Although we put a lot of thought and care into selecting paintings for our calendar, we are completely supportive of our painters making changes. Go wild, paint outside the lines and discover new flavors with a glass of wine from our bar.
Our artists are prepped to instruct whatever is on the calendar, but they are all fully qualified artist who can give advice and assistance if you decide to "go rogue" So join us soon and create your 2017 outside the lines with some of these fun ideas to make your painting your own.
GET CREATIVE WITH NEW COLORS
You're given a palette of colors but that doesn't mean those are your only options. We have a paint cart with every color you could image and few you probably never thought of. If you don't see the color you want, just ask your artist and they'll help you mix up the perfect color for your masterpiece.
IT'S A BIRD… IT'S A PLANE… NO! IT'S YOUR CHOICE
Is something missing from your painting? Or maybe something's there that shouldn't be. Feel free to add, remove or change any element of your painting to make it your own. We've seen guests add everything – from ballerinas dancing on water to Godzilla attacking the Chicago skyline. We're here to celebrate your creativity, not judge it.
MAKE IT A DATE NIGHT PAINTING
Imagine the featured painting stretched across two canvases. You and your significant other can each paint one canvas that will come together to form one masterpiece at the end of the event.
GO ROGUE
You never were one for listening to the teacher, were you? We want you to take home a painting you're proud of, even if it's something entirely different from the featured painting. At Pinot's Palette, you are always welcome to paint whatever your heart desires.
BE BOLD! WIN A FRAME
Tag Pinot's Palette West Loop in a picture of you with your painting and include the hashtag #MyYearMyRules to be entered to win a frame for your masterpiece.