Girl Scout Paint Parties
We are very excited to announce our paint parties for Girl Scout Troops in the Chicago area.
Your troop will enjoy a no-experience-required art class—all supplies included—directed by trained, local artists, who guide the girls step-by-step through the featured painting chosen by your group. With a minimum of just 12 painters, you'll receive a reduced rate of $25 per person, for you private party.
Interested in hosting your own Girl Scout event at our studio? Email us at the studio, westloop@pinotspalette.com, for more information!
Read on to discover 6 benefits of art that Dr. Santos observed while attending her first Pinot's Palette Girl Scout Outing with her 3 daughters.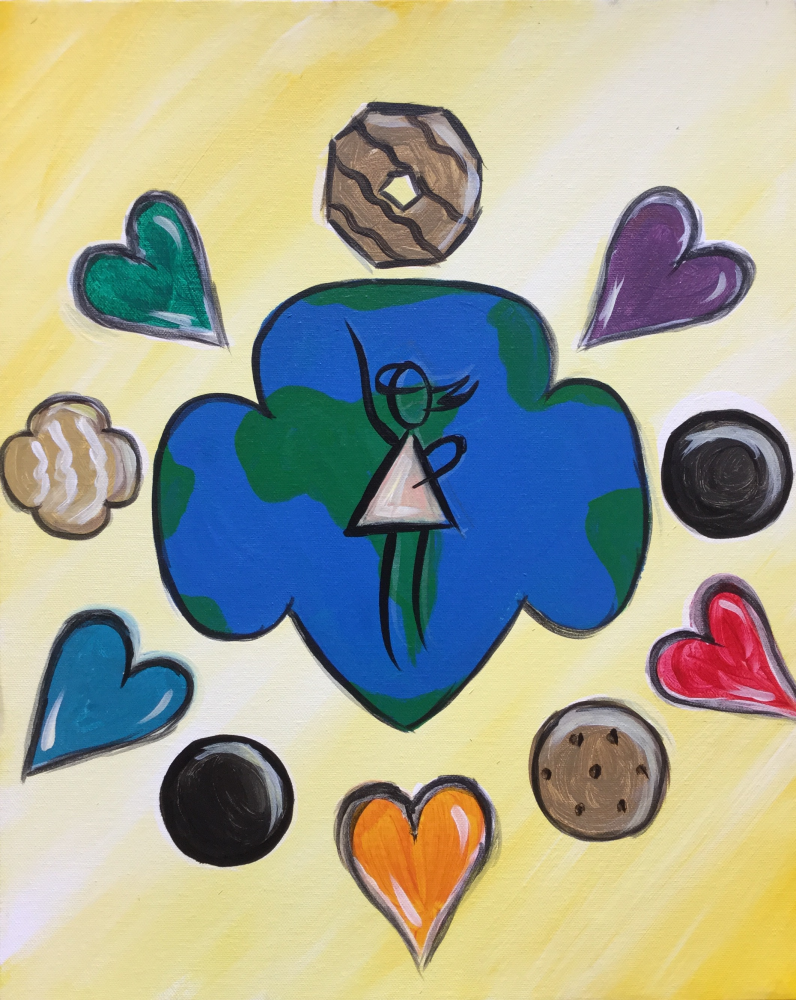 Excerpt from "Pinot's Palette Girl Scout event highlights importance of art for kids"
By Dr. Gracelyn Santos
"Looking around the room at the art event at Pinot's, I noticed so much joy, so much experimentation with color and texture among the children as they worked feverishly to create something beautiful.
I've whittled down my observations of the benefits of art to six Cs, below, and urge you to create something beautiful with your kids soon, if you don't already. You won't regret it.
1. Creativity: Children interpret language and forms from memory and learn to think on their feet and make magic with their fingers. This skill — knowing there are many ways to a desired result and knowing which tools and skills to use — is invaluable in life.
2. Confidence: Children who can step out of their comfort zone to create a painting or a unique piece of art will recognize and take pride in their abilities, eventually giving them the courage to deal with others believe in their abilities. I noticed at the Pinot's event that children who hardly ever painted before eventually became comfortable with the materials and produced stunning work!
3. Constructive criticism: At Pinot's Palette, the art instructors periodically walked around the room and offered help or suggestions to improve the children's paintings. I noticed the children delighted in getting the attention and the help, something that will serve them well in life: Knowing that expert assistance can only improve your work.
4. Concentration: The ability to focus is so important in life, and a skill acquired while making art. Noticeable was the children's keen concentration as they listened to the art teacher, studying her directions and executing on their canvases, careful to make precise strokes with care, something that will be useful in so many aspects of their education.
5. Communication: The children expressed their emotions through their paintings, through the broadness or fineness of their paintbrushes and their color choices. It was clear their nonverbal expressions of their emotions were coming through in their paintings.
6. Collaboration: I observed a lot of teamwork among the young painters at the Pinot event. Their children discussed the aspects of their paintings they found good and the parts they felt needed improvement. The experience was not just rich from creating, but rather the teamwork involved. What better lesson is there to learn in a young girl's life? "