April Calendar Highlights
Our April calendar is full of color and spring feels!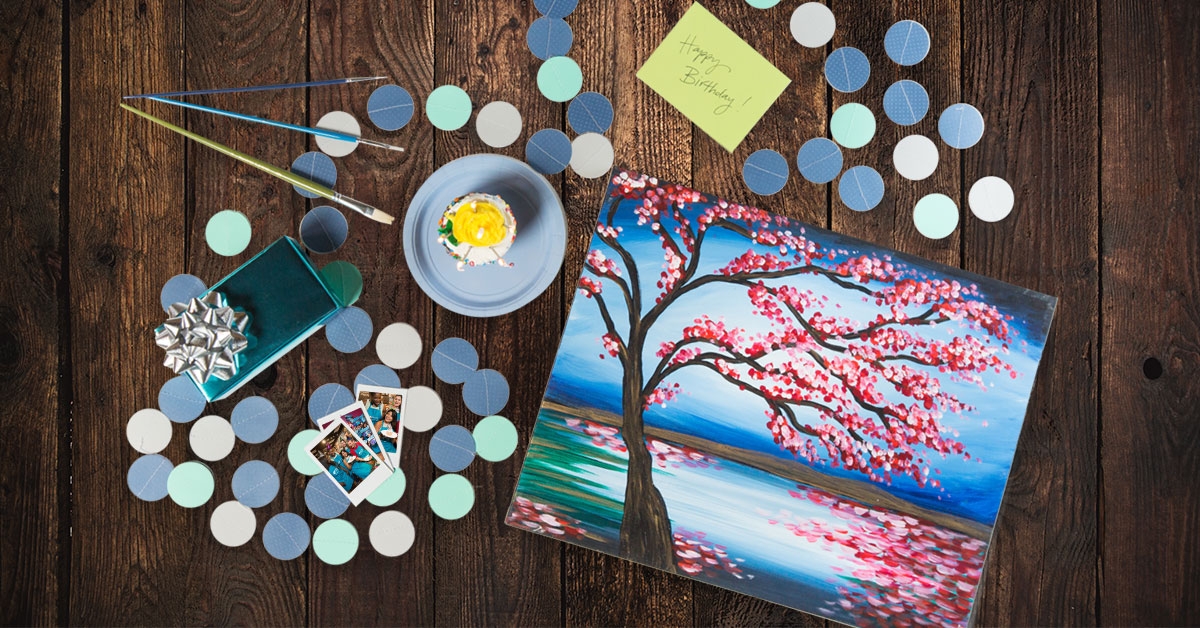 FAN FAVORITES!
A Walk in the Rain – April 7th
A peaceful moment on a walk home in a slight drizzle with pools of rain on the ground reflecting bright colors from the surrounding environment. We encourage guests to customize the woman's outfit to whatever colors they like.
Starry Night Chicago – April 13th
Inspired by Van Gogh's Starry Night this painting combines the famous swirly sky with the windy city skyline.
Opulent Elephant – April 14th
They say an elephant never forgets and you'll never forget how much fun you had painting the Opulent Elephant!
Zen Blossoms – April 22nd
Find your zen by painting this colorful and peaceful scene with a bright, blossoming cherry blossom tree. After a glass of wine and a few brush strokes, you'll feel like you've been whisked away to a spa vacation!
Simply Contemporary - April 28th
This painting is about expression, experiments, and exploration. It's a great way to learn control, learn to step back, and choose the colors and mixtures you prefer.
HOT NEW PAINTINGS!
Cotton Candy Sky – April 4th
Cotton Candy Sky is the impression we get when looking at the sky and seeing these vibrant colors of lately. Add the moon and you'll find yourself in heaven on earth.
Midnight Mystique – April 21st
Take a peek through the cascading blooms to see the bright, full moon glowing through the clouds in this mysterious midnight scene.
Sunset Glow – April 28th
Bring a pop of color to your decor with the bold, modern hues of Sunset Glow!
SPECIAL EVENTS
12x36 Canvas - Redwood Fantasy – April 18th
The California Redwoods are monumental in size and beauty. Their fantastical grandeur has earned them a place among America's most well known National Parks, as well as the setting for numerous iconic sci-fi and fantasy films. Let this painting take you into the colorful, serene setting -- a Redwood Fantasy...
Starry Night Wine Bottle – April 25th
Create your own Starry Night wine bottle. Based on Van Gogh's masterpiece, we provide the bottle, cork/fairy lights and step by step instructions.
PROJECT PET - MAY 1ST DEADLINE
The deadline to register for our May 19th Project Pet Event is coming up fast! If you have not already booked your seats or submitted a photo, please make sure to do so before then. We hope to see you there!
Project Pet Sign-Up:
https://www..../event/231200
OPEN STUDIO
Not into making plans? Prefer to paint at your own pace? Everyone wants to paint something different?
Come check out Open Studio. It's the best deal in the city!
Want more info? Click below for tons of info and answers to all your FAQ!
Open Studio FAQ:
https://www....aint-and-wine
SEMI-PRIVATE PARTY
Have something to celebrate - A birthday, bachelorette party, office party or maybe just need a girl's night out?
Your group is welcome to join any of our public events! Groups of 6 or more receive a discount bringing the price down to just $30 per person. If you'd like to join in any of our public events, contact us and we'll send you a custom discount code your group can use during registration.