How Dana and Ryan Have Fun!
Dana and Ryan have been to Pinot's Palette a couple times and are loving it!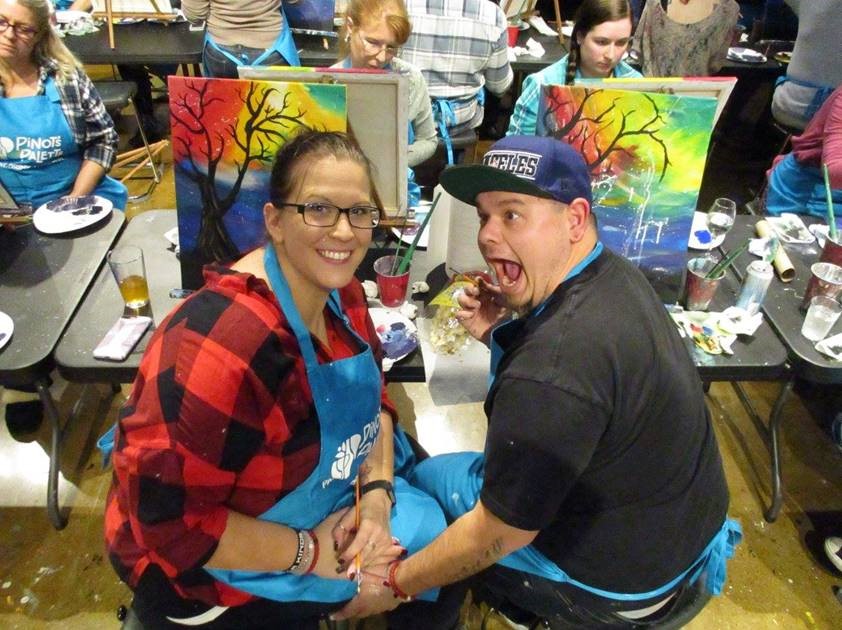 They first came to Pinot's Palette because Dana actually won a free class after participating in one our Facebook contests. Instantly we could tell they were such a sweet and fun couple. They were laughing the whole time and just really enjoying spending time together. We thought it would be really fun to ask them a few questions about themselves and class experience for this blog. We loved that Ryan referred to Dana as "the beautiful woman pictured next to [him] as he answered one of the questions. So cute!
Dana explained to us that it's "a night out away from the usual dinner and a movie. You can be yourself and have an amazing time alongside your other half and not have to be serious." This answer resonated with us because it captures the message we have been promoting of "disconnect to reconnect." This means getting away from your phones, ipads and other screens or the usual activities and doing something fun and unique with your loved ones. We get so caught up with the fast paced lives we are leading and the reliance on all kinds of devices, that we forget to reconnect to what really matters. It's hard to think of something more important than spending time with and creating memories with your loved ones.
Reconnecting with your favorite people and creating memories together that are priceless is what we are encouraging and hoping for everyone. It was funny that both Ryan and Dana mentioned the same funny memory that occurred during the class. Apparently there was a step to mix a wet brush with white paint and then flick it on to the canvas to make stars. Ryan had a little too much water which resulted in dripping stars on his canvas and some white stars on his face :) What is great is that when they look at their paintings and see those "dripping stars" they will remember what a great time they had together.
We encourage you to take time to disconnect to reconnect this Valentine's Day and all year round!
Enter your contact info and request details below, and we will contact you with details about your private party!