How Do You Rate?
When I shop for wine, my no-fail approach is to buy a bottle of something tried and true, and to pick something new, often based on a recommendation. Those recommendations may come from friends or from an article that I've read, but generally I rely on advice from within the wine store. Some stores feature a section of employee favorites, so if you find you have similar preferences to a specific employee, you might find yourself checking out those selections. State liquor stores in Pennsylvania offer a Chairman's Selection® of better wines at low prices (if you find something you like, go back the next day and stock up because they change their selections frequently!).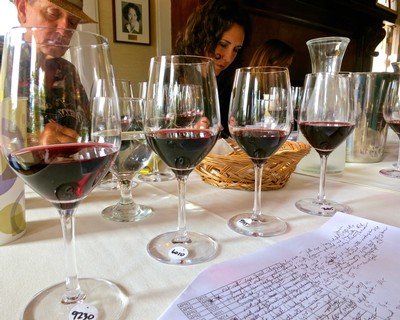 Another way stores help guide wine buyers is by posting wine ratings. Wine Spectator, Wine Enthusiast and Wine Advocate are just a few of the better-known raters. These ratings typically include a numeric scale and a brief description of the wine to help narrow down your decision making. Here's an overview of the ratings and the review process.
THE RATING SYSTEM
Robert Parker is a renowned wine critic and creator of the well-known 100-pt scoring system he uses at Wine Advocate (Don't confuse his with Robert Parker, renowned author of Spencer mysteries!). This is Parker's scale:
96-100: An extraordinary wine of profound and complex character displaying all the attributes expected of a classic wine of its variety. Wines of this caliber are worth a special effort to find, purchase, and consume.
90 - 95: An outstanding wine of exceptional complexity and character. In short, these are terrific wines.
80 - 89: A barely above average to good to very good wine displaying various degrees of finesse and flavor as well as character with no noticeable flaws.
70 - 79: An average wine with little distinction except that it is a soundly made. In essence, a straightforward, innocuous wine.
60 - 69: A below average wine containing noticeable deficiencies, such as excessive acidity and/or tannin, an absence of flavor, or possibly dirty aromas or flavors.
THE PROCESS
Some reviewers, like Wine Advocate, invite selected wineries from their extensive database to submit wines for sampling; they also accept requests to have wine sampled and rated, but do not accept unsolicited samples. Other reviewers accept samples for tasting and review.
Tastings are conducted through a blind review process, meaning there is no identifying information about the wine. A previously rated wine may be sampled first or among those being tasted for consistency. Reviewers typically specialize in a type of wine by region. If there is a problem with the wine, for example a cork taste, another bottle will be opened and the sample re-tasted. Wines are typically tasted by more than one person and the review consolidates their views; if only one person evaluated a wine, it is noted. All scoring, notes and comments are completed by the reviewers before any information about the wine is revealed. Among the qualities being evaluated are appearance, aroma/bouquet, taste/texture, aftertaste and overall impression. Price is not a factor in scoring
(Please note this section was compiled from various sources; each reviewing entity follows a specific process, so there may be gaps or overlaps in how the process is represented here.)
While ratings help provide a baseline from which you can make your selection, the best wines are the ones YOU enjoy, regardless of ratings. However you rate your wine – including the cool name or funky label method - if you like it, it's a 100!
#PinotsPaletteTysons
#Wine&Entertaining
#WineRatings
#SwirlSipSpit
Enter your contact info and request details below, and we will contact you with details about your private party!