Gifting Wine
We were all taught not to visit someone without bringing a token of our appreciation, and what better token than a bottle of wine? So, you go to the liquor and head toward your favorite products, and then the doubt sets in. Should you get red or white? Should you get something you like, or try something new? How much should you spend? Before you know it, you've picked up a half dozen bottles – one for the hostess and the rest to get over the anxiety of choosing it!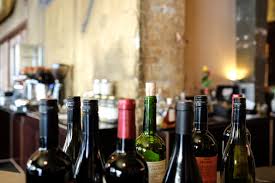 Stress no more! Here are some tips for you to ensure that you'll be asked back again!
WHAT TYPE OF WINE: It's not so much the variety of wine you choose, but why. If you know your hosts are red wine drinkers, of course you should get red – it is a gift for them, after all. If you have a favorite, bring that and share your story of why you love it. If you know your hosts love traveling, get something from their favorite region. And don't forget about champagne or sparkling wine – it's not just for New Year's!
HOW MUCH TO BRING: If you're travelling solo, one bottle if fine. If you're going with your honey and you know you have to drive and get home at a reasonable hour to relieve the sitter, one bottle is still appropriate. If you and your other half really enjoy the grape and plan on tipping a few back, better get two bottles.
PRICE: You probably don't want to get something from the bottom shelf, or economize by getting the best bang for your buck (i.e., buying the biggest bottle for the least amount of money). Don't get too caught up in how much you "should" spend; nor should you put yourself in the poorhouse just so you can present the "right" bottle. instead, focus more on the wine you select and why it would be a good option for that specific person.
As far as whether or not you should regift wine – why not?! If you're not going to enjoy it, don't let it sit in the bottom of your pantry spoiling, give it to someone who would appreciate it. Would you turn down a bottle of your favorite grape just because it was in someone else's house first?? I thought not!
#PinotsPaletteTysons
#WineAndEntertaining
#DontForgetTheGiftBag
#ThrowInSomeChocolates
Enter your contact info and request details below, and we will contact you with details about your private party!