#FridayNightCocktails and More
As we get ready for a holiday weekend, and in preparation for the opening of our studio, it seems a good opportunity to highlight some of the tasty aperitifs and happy hour beverages that might come in handy for upcoming celebrations!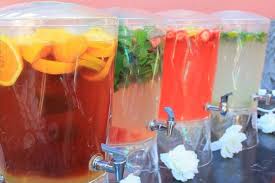 In March, we honored women throughout the month on our Facebook page, including our #FridayNightCocktails. There was the Betty Grable (Amaretto, rum and Chambord – yum!); Ginger Rogers, a gin concoction with mint, lemon and ginger; Mary Pickford (another rum-based delight); and Rose Kennedy, a vodka-soda with a splash of cranberry.
Spring traditionally brings an abundance of bridal and baby showers, engagement parties and other festive, gathering occasions. How about a signature cocktail for the event? I'm hosting family this weekend and can't wait to whip up a batch of French 75 punch, a bubbly gin-champagne- citrusy delight (see the link below for the recipe). Signature cocktails need not be complicated. Start with a few bottles of champagne and add a kick: spike it with Grand Marnier, Chambord or St. Germain; add slices of peaches and a hint of peach schnapps; mix with cranberry juice for color and flavor; add a splash of funky bitters (they come in many flavors beyond the classic mix used in Manhattans!). Or, quadruple the recipe for your favorite cocktail, add a twist and claim it as your own!
The key with signature cocktails is the presentation. Whether you serve them by the glass, in a punch bowl or using a fountain, include decorative garnishes. Add fruits that match or complement the added flavors (e.g. oranges with Grand Marnier; raspberries with Chambord); or pretty much any fruit with straight champagne. Don't forget about herbs (basil, mint, sage, rosemary); and remember, too, that certain flower are edible pansies, carnations, clover, chrysanthemum (and others that begin with other letters!). Of if you're feeling a little madcap, throw in a few Swedish fish and sit back and watch!
If you're all about self-service, offer sides of the above for champagne or wine cocktails; and wedges of citrus (oranges, lemons and lines) for soda, and even some beers! Or skewer up different fruit combos for a quick and tasty stirrer.
I'll report back with the consensus on the French 75 punch, and look forward to any suggestions that we might add to our repertoire!
#PinotsPaletteTysons
#WineAndEntertaining
#HappyPassoverHappyEaster
#FridayNightCocktails
#TheCountdownIsOn
Enter your contact info and request details below, and we will contact you with details about your private party!