Do You Box?
Walking through the aisles of your favorite wine store, you'd be hard pressed to miss a display of boxed wines. Do you stop and peruse, or are you among the vast majority who turn their head in horror at the thought of Wine In A Box! If that's you, buckle up because they're back and they're better than ever.
Unfortunately, our little square friends have gotten a bad rap. The first boxed wines actually came into existence over 50-years ago, but the mindset of the companies offering such a product was "cheap packaging – cheap wine." So, although the technology was solid, the quality of the wine was often inferior and, sadly, The Box suffered for it.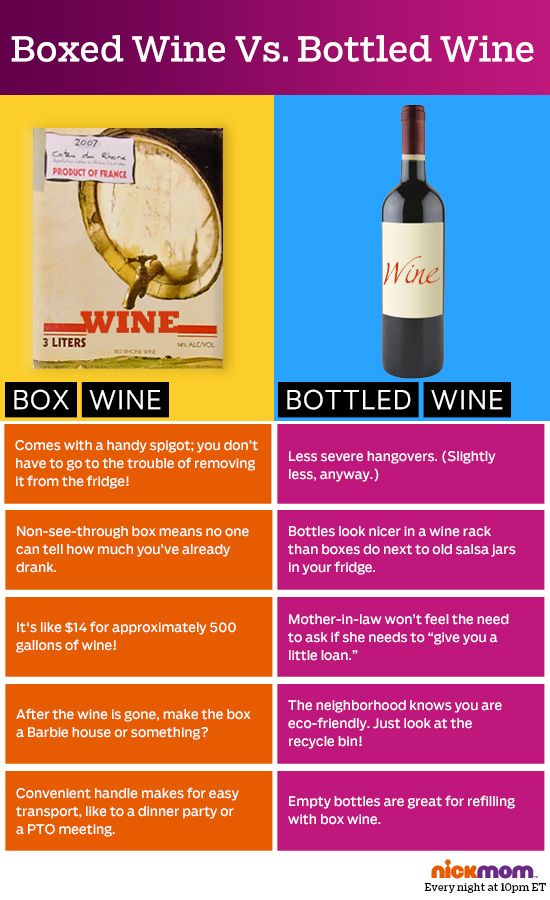 Now, nearly a lifetime later, The Poor Box is still plagued by the shoddy reputation of its predecessors. Many still scoff at the idea of drinking wine from a box and shudder at the thought of serving it to guests! At the risk of advocating radical and shocking behaviors, this is to suggest that perhaps now is the time to consider the benefits of The Box. Here are a few reasons to consider this scandalous option:
IT'S AIR-FREE
The greatest benefit of The Box, more accurately the plastic bag inside it, is that every time you pour wine out, the pressure in the bag causes it to collapse and fill the space vacated by the wine so there's minimal oxidation. This is particularly good if you enjoy your wine in smaller quantities, say a glass a day, because the wine will last longer.
FINANCIALLY FRIENDLY
Because the packaging is notably less expensive, so is the wine. The Box is also bigger, generally 3 liters versus 750 ml bottles; that means you get the equivalent of four bottles for less than what the bottles would cost.
EASY TO TRANSPORT
While presenting a bottle of wine in a custom gift bag lined with peau de soie silk that costs more than the wine itself has a certain pleasant pretentiousness to it, The Box is much more versatile! You can stack other items on it in the bag, it can handle the bumps in the car ride and you can put it on the ground or a rough surface and not worry about it falling over, breaking and ending up in someone's foot. As such it's ideal for tailgating, camping, canoe trips and anywhere that kids are running around.
ENVIRONMENTAL ADVANTAGES
Both bottles and cardboard are recyclable, but the reduction in shipping costs for distributors is advantageous not just in dollars and cents, but in terms of a reduced carbon footprint. Because bottles are so heavy, about 40% more boxes than bottles can be shipped in the same sized transport.
A few disclaimers: boxed wines are generally in the "drink now" family as plastic bags don't allow for pleasant aging; that said, this isn't really too much of a limit since over 90% of wines fall in this category. Also, although one of the advantages noted is that wine lasts longer in a box, research suggests that 60 days is about the maximum time you would want to keep it before the quality starts to decrease (do people actually have open wine in their home for two months?!?). This time frame also minimizes any negative effects from the plastic bags. Many boxes have expiration dates to save you from having to do expiration date math yourself.
In the interest of full disclosure, I have been among the snobs looking down my nose at the lowly Box but I commit here and now to try one before the year is over! I encourage you to join me in breaking this cycle of elitism and open your minds to possibility of grape-greatness from this unlikely, four-sided vessel. Let us know what you think!
#PinotsPaletteTysons
#Wine&Entertaining
#DrinkFromABox
#GoodThingsComeInCardboard
Enter your contact info and request details below, and we will contact you with details about your private party!