"A" My Name Is...
We know that play-time is critical for children – they make up rules, choose teams, work off steam and have a lot of fun. What we forget, though, is that adults can benefit in many of the same ways. Grown-up fun time helps to relieve stress, stimulate creativity and improve brain function (and who couldn't use that?!). Bringing friends or co-workers into the mix has the added benefit of building relationships by improving connections as you work together, try new things, collaborate and develop creative problem-solving strategies.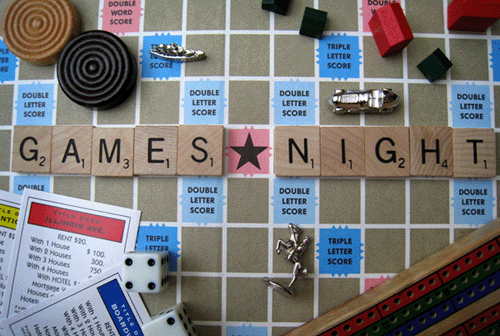 Group activities - like a painting class, for example! - are a great way to get connect with friends and create something new, and also to both provide (and receive!) some always appreciated encouragement and support. To kick off a get-together with a group of new friends, begin with an icebreaker to engage participants and learn a little bit more about one another. Here are a few options:
ALLITERATIVE INTROS: Have people introduce themselves with an adjective that starts with the same letter as their first name ("Hi, I'm Artistic Amy!" or "Hello! I'm Peppy Pat!").
MY FAVORITES: Prepare a set of index cards with starter phrases like "My favorite book is…" or "My favorite movie is…." Have everyone select a card, introduce themselves and complete the statement. Some other options include favorite television show, city, band, sports team, teacher, actor, author, artist, historical period, flower, car, poem, vacation spot, etc.
IF I WERE…: Similar to "MY FAVORITE", prepare a set of index cards with phrases like "If I were an athlete I would play…" or "If I were a shoe I would be a…". Some other options include "If I were a…": wine, singer, painter, dessert, comic book character, color, piece of furniture, plant, board game, vehicle, shape, etc.
These examples work well with all size groups because they move along fairly quickly and they also can be done if space is an issue, or if people are in a pre-determined seating arrangement. In addition to providing introductions, icebreakers create an interactive and participatory environment, and they're a fun way to learn interesting facts about others and how they see themselves.
So, grab some friends and a deck of cards or some board games and make an evening of it (don't forget the wine!). Or, if you're feeling ambitious, maybe a pair of sneakers and a Frisbee or a volleyball and head for the coast. Whatever your pleasure, indulge! It's not only the kids who are more pleasant after a day of fun!
#PinotsPaletteTysons
#TeamBuilding
#BeCreative
#GoPlay!
Enter your contact info and request details below, and we will contact you with details about your private party!