Celebrating Decoration Day
As we round out the month and get ready for summer, let's not rush too quickly past this last Monday of the month, Memorial Day.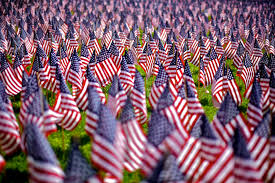 Here are some Memorial Day facts to refresh your memory (or to learn for the first time – how come no one taught me this in school?!):
* The first recognized Memorial Day was May 30, 1868, in response to Commander in Chief John Logan's General Order Number 11. Its purpose was for "strewing with flowers or otherwise decorating the graves of comrades who died in defense of their country…".
* On that first Memorial Day – originally called "Decoration Day" – 5,000 participants decorated 20,000 Union and Confederate graves at Arlington National Cemetery.
* For this reason, the holiday was originally called "Decoration Day".
* Many cities and towns claim to be the birthplace of Memorial Day. Waterloo, NY was officially declared the birthplace by President Lyndon Johnson in May 1966.
* New York was the first state to officially recognize the holiday.
* All northern states recognized the holiday by 1980; the South refused, honoring their dead on separate days until after World War I. At this time the holiday became more encompassing to include Americans who died in any war, not just the Civil War. Texas, Alabama, Georgia, Mississippi, South Carolina, Louisiana and Tennessee also have separate days for honoring the Confederate dead.
*Inspired by a poem written by Moina Michael, red poppies became a symbol to honor those who served during wartime. She wore a poppy and sold them to her friends. A visitor from France observed the custom and brought it back to France with her to raise money for war widows and orphans. The Veterans of Foreign Wars (VFW) was the first veteran's organization to sell poppies nationally. Ms. Michael was honored on a postal stamp for her role in founding the National Poppy movement.
* It wasn't National Holiday Act of 1971 was passed that Memorial Day was recognized as federal holiday, observed on the last Monday in May.
* In December 2000, the "National Moment of Remembrance" resolution was passed asking Americans to "voluntarily and informally" observe Memorial Day in their own way at 3:00 p.m. their local time.
* Common Memorial Day celebrations include parades, decorating with flags, wearing the red poppies and visiting cemeteries.
From our Pinot's family to yours, have a safe happy holiday weekend. And wherever you are on Memorial Day (May 29), put out a flag, pin on a poppy, set your alarm for 3:00 pm and thank a veteran for his or her service!
#PinotsPaletteTysons
#PinotsStateofMind
#DontForgetYourUmbrella
#ThankAVeteran
Enter your contact info and request details below, and we will contact you with details about your private party!