Frig a what??
We're just two weeks into the new year and tomorrow is the first of two Friday the 13ths we'll experience this year. Upward of 17 million people suffer from friggatriskaidekaphobia, a fear of Friday the 13th, also known as paraskevidekatriaphobia. This shouldn't be confused with triskaidekaphobia, the fear of the number 13. (I'm loving these twenty-five cent words!!)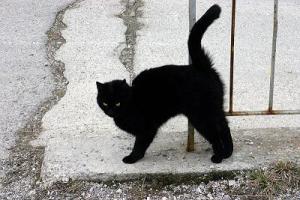 Thanks to the Friday the 13th slasher film franchise recounting the misfortunes of poor Jason Voorhees and anyone he's ever encountered, it's no wonder so many people stay inside with nyctophobia (fear of darkness) or phasmophobia (fear of ghosts) on these days. While the history of Friday the 13th is a bit sketchy, there were no references to knife-wielding, hockey mask-wearing corpses found in my research, which should bring comfort to people with aichmophobia and maskaphobia (I can't help myself!).
Here are some of the theories that contribute to Friday the 13th superstitions:
* A myth suggests that if 13 people attend a dinner party one of them will die in a year, based on Jesus' death following the Last Supper; another Norse myth echoes this theme because a dinner party for 12 gods went downhill after being crashed by the god of evil and turmoil
* Preceding the Stock Market Crash of 1929 (which happened on a Tuesday, btw), Thomas Lawson wrote a book about a broker bringing down Wall Street. The book was titled "Friday the 13th" and the similarities were too close for comfort for some.
* Since 12 is such a significant number – 12 apostles, 12 months, 12 principle gods in Greek mythology, etc. – that 13 has the unfortunate position of living in its shadow, and often is considered unlucky. Some buildings will "skip" the 13th floor.
What do you think? I imagine if your birthday or anniversary is on a 13th, you consider it a good day. And let us not forget that Friday is the start of the weekend, regardless of the date. That alone gives it pass on any associated negativity!
Here's to anxiety-free Fridays throughout the year, and hope I haven't given you hippopotomonstrosesquippedaliophobia (a fear of long words…and I'm done!!).
PS: Interesting side note - there were twelve movies in the Friday the 13th series…does this seem off to anyone else??
#PinotsPaletteTysons
#PinotStateOfMind
# SayNoToOenophobia
# FridayIsMyDay
Enter your contact info and request details below, and we will contact you with details about your private party!