A Reason for Painting
A night out with your besties, a get-together with neighbors or happy hour with some coworkers can be the best antidote for a bad day. A friendly face, some adult libations and a relaxing atmosphere go a long way to erase the memories of even the worst "I should have stayed in bed!!" day, and help with a much needed attitude adjustment to get through the rest of the week. Throw in a paint class or game night and you have yourself an even better party!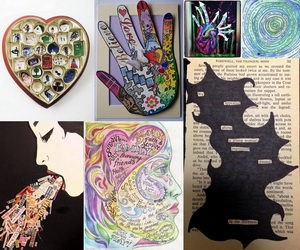 Not surprisingly, the benefits from these types of interactions extend beyond neutralizing the effects of a bad day at the office. For many suffering from physical and emotional issues, alternative therapies offer benefits that might not otherwise be recognized from more traditional treatments. Art therapy, in particular, is recognized as relevant option for a wide variety of conditions, typically as a complement to other therapies. Research has found multiple values of art therapy for stroke and cancer patients, as well as those affected by post-traumatic stress disorder. Among the benefits reported were reduced symptoms and pain, improved physical functions, better quality of life and decreased depression and anxiety, as well as improved concentration, emotional state, self-confidence and motivation. It is believed that the non-clinical climate of an art therapy programs provides a supportive environment that encourages recovery.
Earlier this summer we had an incredible experience hosting a painting session for members of the Stroke Comeback Center in Vienna. The Center provides services for survivors of strokes and their families, and this was the first time they offered a painting session. What a great group of interesting people and engaged artists! While the session certainly seemed to support the findings noted above, it wasn't only the participants who benefited. Our Pinot's Palette Tysons crew was so impressed with everyone's determination and enthusiasm; we gained a new perspective on how art is created and interpreted, and I think we all would agree it was one of our best sessions.
Using art as expression benefits everyone who is willing to try. Whether it's a paintbrush, some pencils and a sketch pad (or a journal), a lump of clay or a new dance routine, take the first step and experience your art. (Adult libations optional!)
Share Everyone Should Paint! | Art Exercises for all Reasons and Seasons
Enter your contact info and request details below, and we will contact you with details about your private party!