Under the Stars
At long last, the clear, sunny spring-like days are outnumbering the cold, biting rainy days. Thank you, Mother Nature! Mild weather means more time outdoors. For those of us lucky enough to have a deck or patio, it's like opening a whole new room.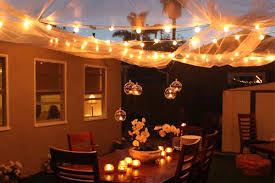 Like the other rooms in your house, outdoor spaces need seasonal cleaning and sprucing up. While it's still early in the season, set aside a day to make your space the retreat you want it to be. Here are some ideas:
FANCY UP THE FURNITURE: If your furniture is still holding up but getting a little dreary to look at, consider painting it. Spray paints come in a wide range of colors, including bolds, brights, neutrals and metallics so you're sure to find something you'll like. Be sure to clean and prep the pieces first so that it lasts. Check out YouTube videos for tips and ideas.
CUSHIONS: BRING THEM IN or LEAVE THEM OUT? Advice was divided on this topic. Those that brought them in, or stored them outdoors in a plastic container, did so to add to their longevity, keep them clean and avoid a web bum after a storm. While all that makes good sense, those who left them out (because they didn't have space to store them or just didn't want to be bothered) didn't seem to experience significant repercussions. They felt the cushions dried quickly enough, and it was easy and quick enough to wipe them down, though most people agreed that they took them in if a big storm was brewing. So, if you have the space and don't mind doing it, it will probably prolong the life of your outdoor cushions…but don't sweat it if you forget.
QUICK COVERS: If you have left your cushions out for one season too many and they're starting to fade and look worse for wear, consider covering them. The Pinterest link below offers several options, many of them low cost and low effort. Or - wait for it - you can paint your cushions! Who knew?? Check out the link below for tips. You can get another year (or two) out of them yet!
LIGHT IT UP!: Lights always add a festive touch. Tie or tack up strings of lights (there are so many fun shapes and they come in all sizes), put lanterns out on the tables, and stick a few solar torches in the ground or planters for a softer setting. Candles add soft, romantic and flattering lighting (and if you throw in a few citronella candles they can do double duty as lights and insect repellent!).
ADD SOME LIVING COLOR: Don't forget the plants! If you have a yard you have the option to landscape or add pots, but even a small deck or balcony can fit a plant or two. Geraniums, which are now bred in a rainbow of colors, need hardly any water, and pansies are incredibly durable. Or spice things up with edibles! Basil, lavender and lemon grass allegedly repel mosquitoes and they're pleasantly fragrant and attractive – and you can eat them!
If space isn't an issue consider a grill, Jacuzzi, fire pit, bar, wine fridge (you can throw in a few bottles of beer) and maybe a tent or gazebo…then stock up that mini-fridge because we'll be on our over!
Next week we'll look at some fun features to add to your revitalized outdoor room. Send us your ideas to include!
#PinotsPaletteTysons
#HomeDecor
# GetAChaise
# DontForgetTheMusic
Enter your contact info and request details below, and we will contact you with details about your private party!