More Outdoor Decorating Ideas
Last week we gave some tips about sprucing up your deck or patio to get ready for those glorious summer nights! This week we have some features to help personalize your space add perhaps put a little fun in those functional features!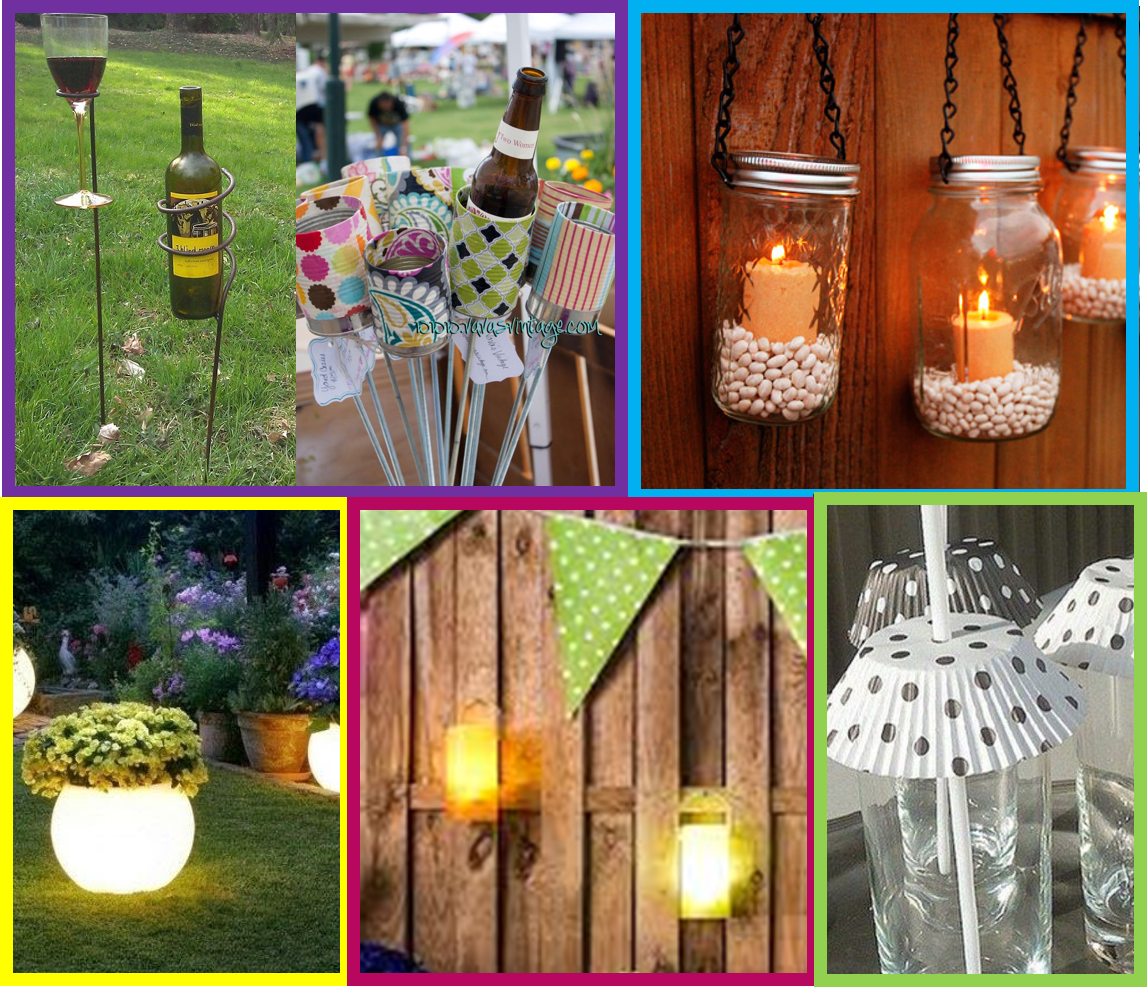 I wish we could add unlimited photos and links to fully cover the range of "I never knew I needed that!" items that are available for your use and pleasure. The best thing is that so many of these ideas area adaptable, so if you can't find the exact thing in a store, you could probably make something yourself…or get one of your DIY friends to do it for you! You bring the wine - everyone wins!
These descriptions (attempt to!) coordinate with the photo above, left to right, top row then bottom row.
OUTDOOR GLASS/BOTTLE HOLDERS: If you're short on space and don't have room for several small tables, buy or make free-standing glass-holders. If you have a lawn for games, these are portable! If you have a deck you can attach these at intervals around the rail.
LIGHTS: Last week we suggested a variety of lighting options (and we stand by them!), but how nice are these Mason jars with candles?? And (seemingly!) so easy to make! You can use assorted colored candles, different types of base layers: sand, shells, marbles, beads, whatever! (Nonflammable, of course!)
GLOW IN THE DARK: We're all about the lights! In addition to all the other illuminating ideas (!), paint your flower pots with glow-in-the-dark paint as an added night-light. Small, painted pots can help light a path to your door. You can also buy solar pots that absorb sunlight during the day and light up at night.
FUN FLAGS: We hang banners and signs all the time for birthdays and graduations, why not carry this idea over for some added flair every day? You can use fabric, paper or plastic in whatever shapes you want. Find a string or ribbon and voile! Get the kids involved and change it up now and again!
BUG COVERS: There's nothing like a fly doing a backstroke in your freshly-poured beverage to bring you down. Upside-down cupcake liners! How easy is this and why haven't I thought of it before?! You can find these in all different colors, patterns and themes if you go to a craft or party supply store.
These are just a few ideas (because I couldn't squeeze in any more photos!), but there are so many things you can do to make your space uniquely yours. Party plates and glasses can add color and style, and they come in all varieties of non-breakable materials. Recycle large, waterproof containers to serve as coolers so you don't have to go in and out all night for drinks. And don't even get me started on grill accessories! So many options, such a short season!
#PinotsPaletteTysons
#HomeDecor
# PlayCharadesInTheShadows
# InviteTheNeighbors
Share The ideas keep coming! | Reward yourself with a sweet treat
Enter your contact info and request details below, and we will contact you with details about your private party!