How Do I Count the Ways?
In case you've missed the dazzling array of glittery hearts, wide-eyed cupids and piles o' conversation hearts making their annual appearance in just about every store you may enter, let me take this opportunity to remind you that Valentine's Day is just around the corner.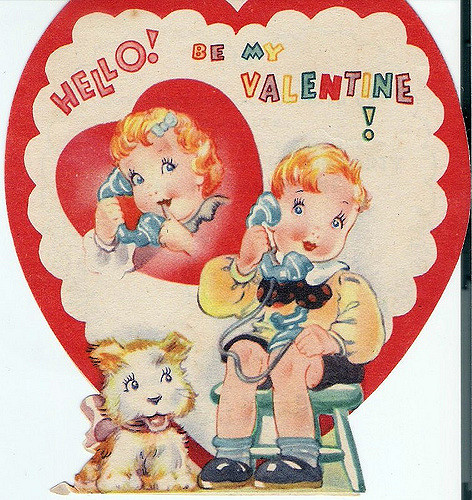 While we probably all agree that Valentine's Day has become a tad commercialized, there's still something sweet about recognizing a day for love. Even if we do our best to regularly recognize the thoughtful contributions of our significant others, children, parents, family, classmates and the many others who make up our villages, there's just something about saying it with chocolate that really send the message home. But why? Today we're going to look at some of the traditions that have become linked to Valentine's Day.
First, a little about St. Valentine himself (or themselves; as it turns out, there were a few). The story of St. Valentine and the traditions that have become associated with him have some gaps, but here's the snapshot: as the patron of love and happy marriages, Valentine is said to have married Christian couples, a crime for which he was imprisoned and ultimately killed. His feast day is February 14, which is now recognized as a day associated with love and marriage in many countries around the world.
CHOCOLATE: You may want to take a seat for this. Over 58 million pounds of chocolate are purchased on Valentine's Day, just part of the $1.7 billion that Americans spend on Valentine's candy. This tradition is attributed to Richard Cadbury who started forming chocolate into images of cupid and flowers and putting them in heart-shaped boxes, meant to be saved for keepsakes. Since chocolate is considered to be an aphrodisiac, it's no wonder that Cadbury is still a major player in the chocolate market!
FLOWERS: There are several theories associated with flower-giving. One source says that for the non-reading and writing population of centuries past, flowers were used to convey beauty and meaning. Even today, certain flowers are associated with different meanings. Another view is that Venus, the Goddess of Love, favored roses which spurred lovers to give flowers to one another as an expression of their love.
CARDS: I can still remember exchanging Valentine's cards with classmates in first and second grade. They were single-sided, colorful cutouts – probably $1 for 50 of them – and I took pains to select the appropriate card for every classmate. Clearly I'm not alone as Americans spent nearly $19 billion on cards last year. As with flowers, the source of card-giving has various attributions. One story says that Valentine fell in love with his jailer's daughter, to whom he sent a letter before he was put to death that was signed "From Your Valentine", and that the expression stuck. Another story says that Charles, Duke of Orleans, inspired the tradition by sending his wife a written note while imprisoned at the Tower of London on Valentine's Day. As paper and postage became more available and affordable, the tradition grew.
What's your preference? Are you a fan of tradition and look forward to a day "red-filled" day: roses, boxes of chocolate, cards? Or do you and your person share a unique celebration (I'm thinking of Phil and Claire in Modern Family!)? What's the most memorable Valentine's adventure or gesture that you gave or received?
#PinotsPaletteTysons
#PinotStateOfMind
#ItsNationalChocolateMonth
#LoveIsFree
Enter your contact info and request details below, and we will contact you with details about your private party!