Unique...and Then Some
We all have our favorites when it comes to art. Maybe you can't get enough of the impressionists, or sculptures really capture your fancy. Maybe you would travel far and wide to see a fashion exhibit, or maybe music speaks to you (literally!).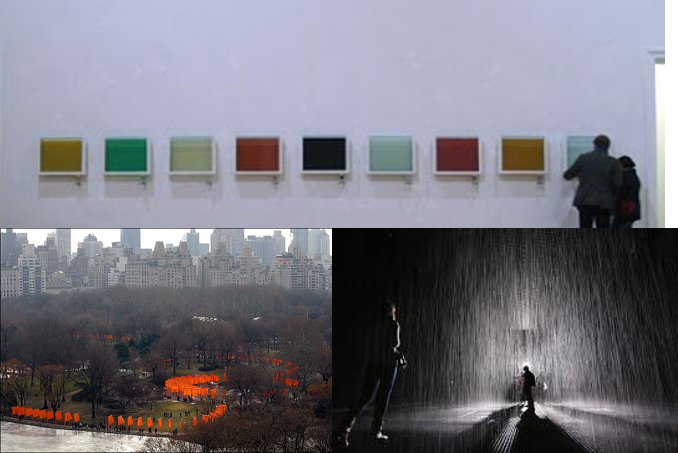 In an effort to expand my own admittedly limited knowledge of art, I did some research to see what other people think is interesting in the art world. Let's just say it's not called a "creative" field for nothing!
FUNKY TOOLS
In addition to a range of body parts that we'll leave to your imagination, artists use all sorts of tools to share their vision. Malaysian-born Hong Yi uses a basketball to paint – what else?! – retiring basketball player Yao Ming. She's also used chopsticks, sunflower seeds and melted tea lights in other works. A group of Ukranian artist created beautiful seascapes while under the sea (yes, underwater painting!). And despite some reservations about cruelty to insects, American artist Chris Trueman painted a portrait of his brother using ants.
ART INSTALLATIONS
In 2005 in Central Park (NY), 7,500 "gates" that were 16 feet high and between 5+ and 18 feet wide created a 23 mile path. They consisted of a simple frame with waves of hanging saffron fabric; the intent was to create a "river" of gold. For indoor fun, and despite constantly falling water, no one in The Rain Room exhibit gets wet. A fascinating technology uses 3-D cameras to determine where visitors are standing and turns of the water above them. Or something that's right up our alley: an exhibit titled "Drink the Art Away" where the artist creates glass boxes full of adult beverages and encourages visitors to interact with the art!
RECYCLED ART
A well-known project in Philadelphia features an entire building in mosaic using recycled materials. Many artists specialize in pieces that use specific materials like computer hard drives, old clothing, weapons, driftwood, old toys or virtually anything that we might view as no longer useful. As they say, "One person's trash is another's treasure"!
If you had a week and no responsibilities, what would you create??
#PinotsPaletteTysons
#CreativeLife
#PaintAndSipIsArt
#YouCanBeAMillionaire
Enter your contact info and request details below, and we will contact you with details about your private party!