Project Pet is May 16th!
Come to Pinot's Palette in Tustin and paint your fur baby!!!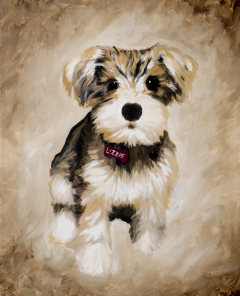 Project Pet is one of those special classes we offer that people just can't get enough of! If we know one thing, it's that people LOVE their pets and truly enjoy painting a portrait of them in our studio. We love to watch our customers' eyes light up as they walk through our doors and see the photo of their beloved babies, printed on the canvas, waiting to have some color added! They love to paint a picture that it's so personal, of something they love (or loved) so much.
How it works:
- Sign up online for the class! *(see link below)
- We'll email you details and ask you to send us a picture of your pet!
- The picture is printed onto the canvas for you!
- When you come in the day of the class, we'll provide the paint and brushes and you paint!
***We have several professional artists that walk around to assist you anytime throughout the process (if you need it)
Sign up today and see what all the excitement is about! We're certain you'll have a great time and go home with a masterpiece that is TRULY one of a kind!!!!!
**Seats go quickly for this class, so be sure to sign up ASAP :-)
Share Sign up for Project Pet HERE! | Check out our other classes!