Disconnect to Reconnect
Disconnect from the distractions of daily life and reconnect with the one that matters most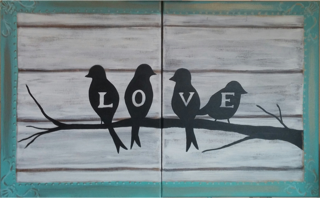 Let's be real...Life gets busy! It's easy to get swept up in our daily tasks, running from work to the gym...dropping the kids off at practice....deadlines...appointments...etc. We get it. In all of the craziness our lives bring, sometimes it's hard to remember to do something for ourselves that we enjoy and isn't an obligation.
This Valentine's Day, why not take a little time to love yourself and take a break with us at Pinot's Palette in Tustin? This month, we are offering a lot of beautifully romantic paintings, including not 1, not 2, not 3....but 4...FOUR!!! Four date night paintings! You and your spouse/significant other/roommate/bestie/relative/etc paints one half of the painting, and you paint the other! It's the ultimate way to paint, drink, and work together to make two halves a whole (a whole painting, that is).
*want to come in for some time to yourself and paint to relax? No problem! Join a date night session and paint the whole painting yourself on one canvas (people do it all the time!), or check out our many other options for the holiday!
From pink, red, and white hearts, to beautiful, romantic landscapes, we've got something to fit your taste! So grab your sweetie, whomever that may be, and come have a date with us this Valentine's season! We'd LOVE to see you!!
XOXO
Share Check out our Valentine's paintings here! | See our full calendar here