Valentine's Day Date Ideas!
Valentine's Day is a little under a month away, but it's never too early to start thinking about things you can do with your loved ones! And remember, Valentine's Day isn't limited to just you and your bae – you can celebrate it with your best friends, your kids, your parents, and your pets! Even if your loved ones are far away, we've got a couple ideas for you to close that gap on this special day.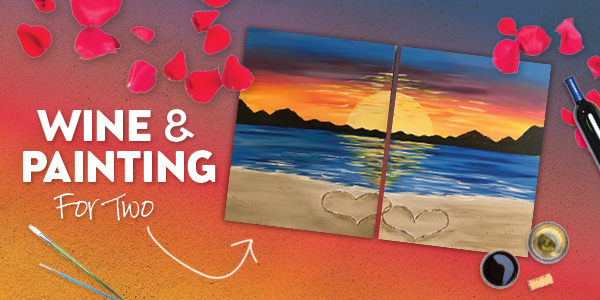 Special Date with Your Significant Other:
• Go skating! Visit your local ice rink or a roller-skate rink. Some of these rinks have special Valentine's Day themes, so look out for those too if you're looking to have an extra special night.
• Explore the city (or the town you live in). We get so caught up in all the work and errands we have to do, that we rarely take a moment to just enjoy the scenery around us and check out the local businesses. Be a tourist in your own city. And be a living part of your own neighborhood.
• Exercise Date. It's scientifically proven that exercise can boost your mood. Why not do this with your partner? Take a run outside or sign up for a yoga class. If it's warm where you are, go on a bike ride!
• Start off your February with our first Date Night of the love month and paint "A Charming Love". This painting depicts four birds spelling out L-O-V-E and cana be painting on canvas OR we have a wood option if you're interested!
• Getting in the Valentines Mood but just want to paint a solo painting? "A Bed Of Roses" is February 9th and it is the trendiest new wood painting! Great for any Valentines Day gifts you may want to wrap up for your special someone.
• Book seats for a Date Night at our Glen studio on Valentine's Day! Thursday, February 14, from 7-9pm, we are painting one of our most nation-wide popular paintings called "Romance on the Beach." Our "date night" or couple paintings are those created across two canvases so that each person has their own half of the pair. Can't make it on Valentine's Day? We have one more Date Night the next Friday! This painting is called "Lasso the Moon" and is a unique kind of date night because instead of it fitting side by side, the picture stands upright making the 16x20 canvases fit one above each other.
• Do a wine bar crawl. Find a place in the city with a lot of wine bars, and go from bar to bar to try different glasses of wines. If you ever did a bar crawl in college, you know exactly what we're talking about.
February 1st – "A Charming Love"
https://www..../event/287446
February 9th – "A Bed Of Roses"
https://www..../event/292097
February 14th – "Romance on the Beach"
https://www..../event/289927
February 22nd – "Lasso the Moon" -
https://www..../event/299650
Fun with Family:
• Sign up for a Family Fun class at Pinot's Palette! In February, we'll have Family Fun specials of $30 per seat on February 9, 10, and 23. Interested in more options for smaller or more independent kids? On both the 18th and 19th of February, we'll be having Open Studio from 11am to 3pm. Come in and do self-guided paintings on 8"x8" canvases for $15 per canvas!
• Bake heart-shaped cookies or a cake and decorate them! Bonus points if they're red velvet. Even more points if there are sprinkles involved.
• If there's enough snow, go sledding! Come back home to warm cookies and hot chocolate.
• Plan a scavenger hunt for your family. If you're feel extra ambitious, put notes in boxes that you bury in the snow. Tape notes under furniture. Make references to family inside jokes. Just don't forget to have an end prize!
• Do a family craft together. You could do anything from painting a table to doing a group painting.
• Everybody cooks together! There's nothing more fun than passing down recipes and teaching your kids how to cook. Everyone's in the kitchen together. Everyone cooks together. Everyone eats together.
Night Out with Friends:
• Celebrate GALentine's Day with Pinot's Palette! On the 14th of February, we're painting "Paradise Cove" for our GALentine's Day. And if you can't make the Thrusday Night class, we'll be doing another GALentine's Day painting the next day on Friday, February 15. For this night, we'll be painting "Firefly Dance." These classes are both from 7pm-9pm, and if you sign up for these classes before the 1st of February, your first glass or wine or mimosa is included in your ticket! Throughout the month of February, we have plenty of romantic paintings scheduled, and you can see all of them on our online event calendar. If you'd like to do any of these paintings for yourself or as a gift to someone you love, just book a seat! And if you're interested in painting on wood or a tote bag, let us know so we can advise you accordingly.
• Fancy dinners with champagne are not just for lovers. Who said you can't reserve a table for two – or six? However many you want! – for your best friends on Valentine's Day? Spread the love! Dressing up on this day shouldn't be saved just for people with bae's.
• Watch a new rom-com (or a new horror movie – it's up to you). You can hit up the theatres or rent a movie. Some new romantic-comedies that came out last year include "Crazy Rich Asians" and "Love, Simon." Or you can roll with older, fantastic movies such as "Love Actually" or "Bridget Jones's Diary."
• Karaoke with your friends! Karaoke rooms have become popular recently, but if you're on a tight budget. Singing alone to YouTube videos on the TV at home is also a great time.
Long Distance Love:
• Mail something special over. Even a simple card of love can make people's day. People love to receive things in the mail, so maybe you could invest in a pack of "Forever Stamps."
• Send handprints to grandparents. This is a great idea for family with growing children. When our studio artist, Hana, was young, she sent handprints yearly from Chicago to her grandparents in Malaysia as she grew up. This way, her grandparents could see how big their grandchildren were growing as time passed. It's definitely something your loved ones would treasure as well.
• Cooking date over video chat! Maybe you and your significant other are too far to spend time together. Make videochatting twice the fun by planning a small meal that each of you will prepare in your own kitchens at the same time. Laugh with each other as you cook (and potentially burn) your versions of the dinner over video chat. And take the call to the table so you can eat your meals together too.
Have Questions? Call! 847.730.5972