New Drink Menu: Introducing Hand-Crafted Cocktails!
We're getting crafty and our bar is too!! Check out our new drink menu introducing liquor! Glenview's favorite paint and sip just got even better and we are SO excited to share it with you: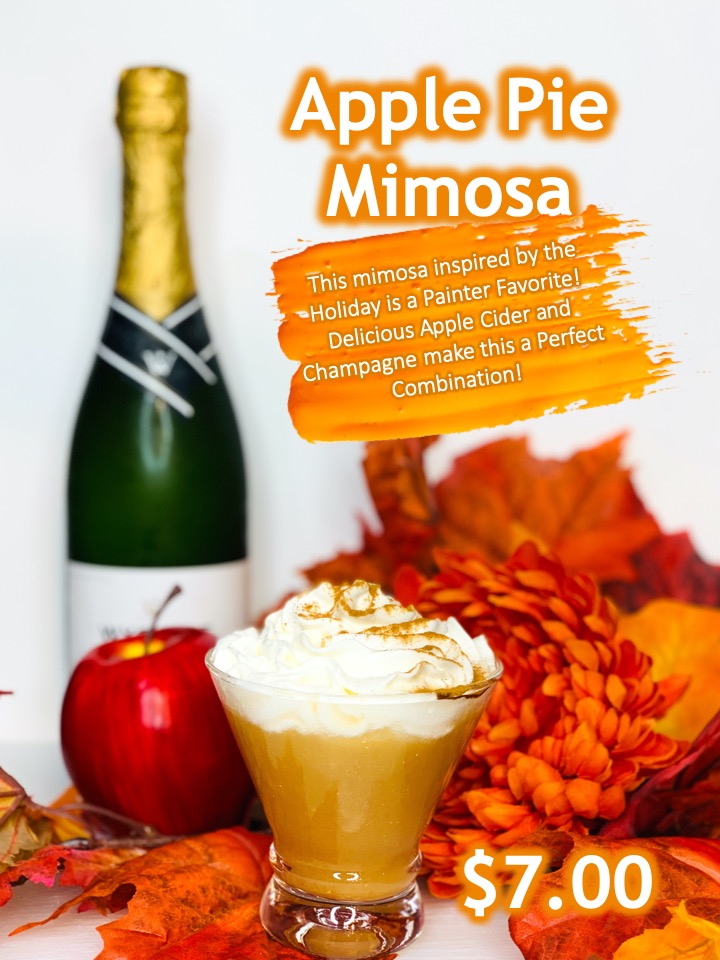 WINE
Crow Canyon Chardonnay
MAN Sauvignon Blanc
Hirshbach & Sohne Riesling
Crow Canyon Cabernet Sauvignon
Bulletin Place Shiraz
De Loach Pinot Noir
Tiamo Prosecco Split
Mimosa's (Traditional, Mango, Pineapple, Seasonal)
BOTTLE ONLY
De Loach Chardonnay
Cline Pinot Gris
Bricco Riella Moscato d'Asti
Alexander Valley Vineyard Sin Zin
Avalon Cabernet Sauvignon
Amalaya Malbec
True Myth Cabernet Sauvignon
COCKTAILS
Cucumber Mint Monet
Grapefruit Van Gogh
Starry Night
Cucumber Martini
Gin Gimlet
Tom Collins
BEER
Miller Lite
Heineken
Blue Moon
Ten Ninety Half Wit (Glenview, IL)
Revolution Anti-Hero IPA
CIDER
Wild Tonic Kombucha
Crabbie's Raspberry Ginger Beer
Stiegl Radler Grapefruit
Angry Orchard – Rose
White Claw (sparkling seltzer)
NON-ALCOHOLIC
Pinot Mocktail
Sprite
Coke
Diet Coke
Moutain Dew
Coffee
Tea
La Croix
Fiji Water
SNACKS
Sun Chips ∙ Skinny Pop ∙ Cheese-Itz ∙ Variety Nuts ∙ Pork Jerky ∙ Pork Sticks
And don't forget you can always give order Your Pies pizza's through us and they will deliver right to the studio!