Seasonal Mimosas at our Paint and Sip!
Have you tried our seasonal mimosas? For the last couple of months, we've been trying out a few different flavors. Each mimosa's only $7 a glass, and they've been popular recently! We started out in October with our apple cider mimosas, which were delicious, and really brought those autumn vibes into our studio. We put cinnamon sugar on the champagne flutes for that added sweet taste for our customers – not to mention they were definitely Instagram-worthy. The apple cider mimosas were such a hit, that we decided to try a new flavor for Thanksgiving and Christmas, cranberry! And for this love month of February, we're making our new Amoré Mimosas!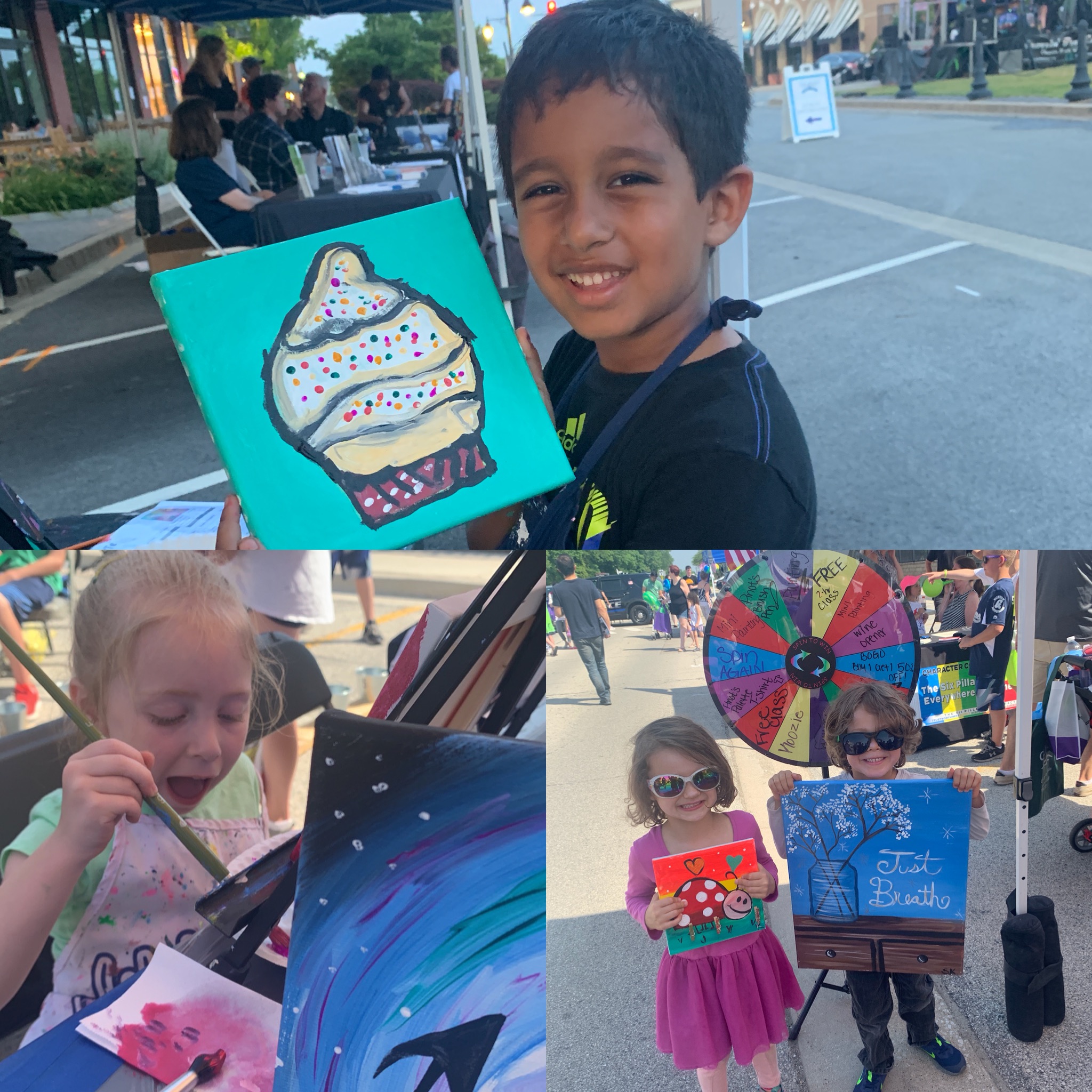 Our Amoré Mimosas are made with our favorite bubbly on hand, Segura Viudas Brut Cava. We put a gold or silver sugar rim on the glasses and put a skewer with heart-shaped strawberries in the glass for you to munch on as you enjoy your paint party! We are so excited to sell these red mimosas; they'll look great next to your Date Night or Galentines paintings this month! But if you're missing those cranberry mimosas that we sold for a while during the holiday season, just keep reading for a little tutorial on how we made them!
Our cranberry mimosas were made by our bartenders with cranberry juice and our favorite champagne. If you want to get fancy like we did, put a sugar rim on your glass! Pour about a quarter of a glass of cranberry juice into your champagne flute, and fill the rest with champagne! Spruce it up even more by dropping some cranberries into the drink. These cranberry mimosas are so popular – just ask our bartenders! We once sold 37 of these cranberry mimosas for a painting party of twelve people! The cranberry mimosas definitely had an elegant and festive look to them, and they looked so great next to all the Christmas sweaters and winter paintings, that we ended up having to bring out more champagne flutes for the studio. And our Amoré Mimosas will just look as sophisticated next to all the LOVE-themed paintings we have lined up on our event calendar.
If you like to sip on a more traditional drink, don't pass on the mimosa just yet! Year-round, we do have orange mimosas and pineapple mimosas. During our seasonal mimosa deal of $7 per glass, you can also purchase the orange mimosa for the same price. The pineapple mimosa, however, comes in a wine bottle. Soleil Pineapple Mimosa is lovely, and people buy it by the bottle. It's a fantastic deal if you've got people to share it with! If you purchase any of our wines by the bottle, our bartender will put your name on it, and it's yours to drink throughout the painting party. If you don't finish it by the end of the class, we'll cork it up and seal it in a take-home bag so you can enjoy it at home too!
If you sign up for a painting party soon, all four of these flavors will be available for you to try! We'll be changing up the flavors every season, so let us know if you have any flavors you'd like us to sell! And if you're looking for deals on other drinks, our Wine Wednesday deal is 25% off of bottles, and Thirsty Thursday is $5 glasses of wine.
PRO-TIP: If you're not into alcohol, ask your bartender for a just a splash of juice in your Sprite.