Holiday Drinks at Pinot's!
Have you visited our bar lately? We have some exciting new things on our menu, including beers, ciders, wines, and holiday specials.
Seasonal Holiday Mimosa!
This holiday season we're making specialized mimosas. Currently, we're selling $6 apple cider mimosas which have been a huge hit thus far! At the end of this month we will switch over to White Cranberry mimosas with holiday colored rims! We are very excited to share these new and decorative drinks with everybody.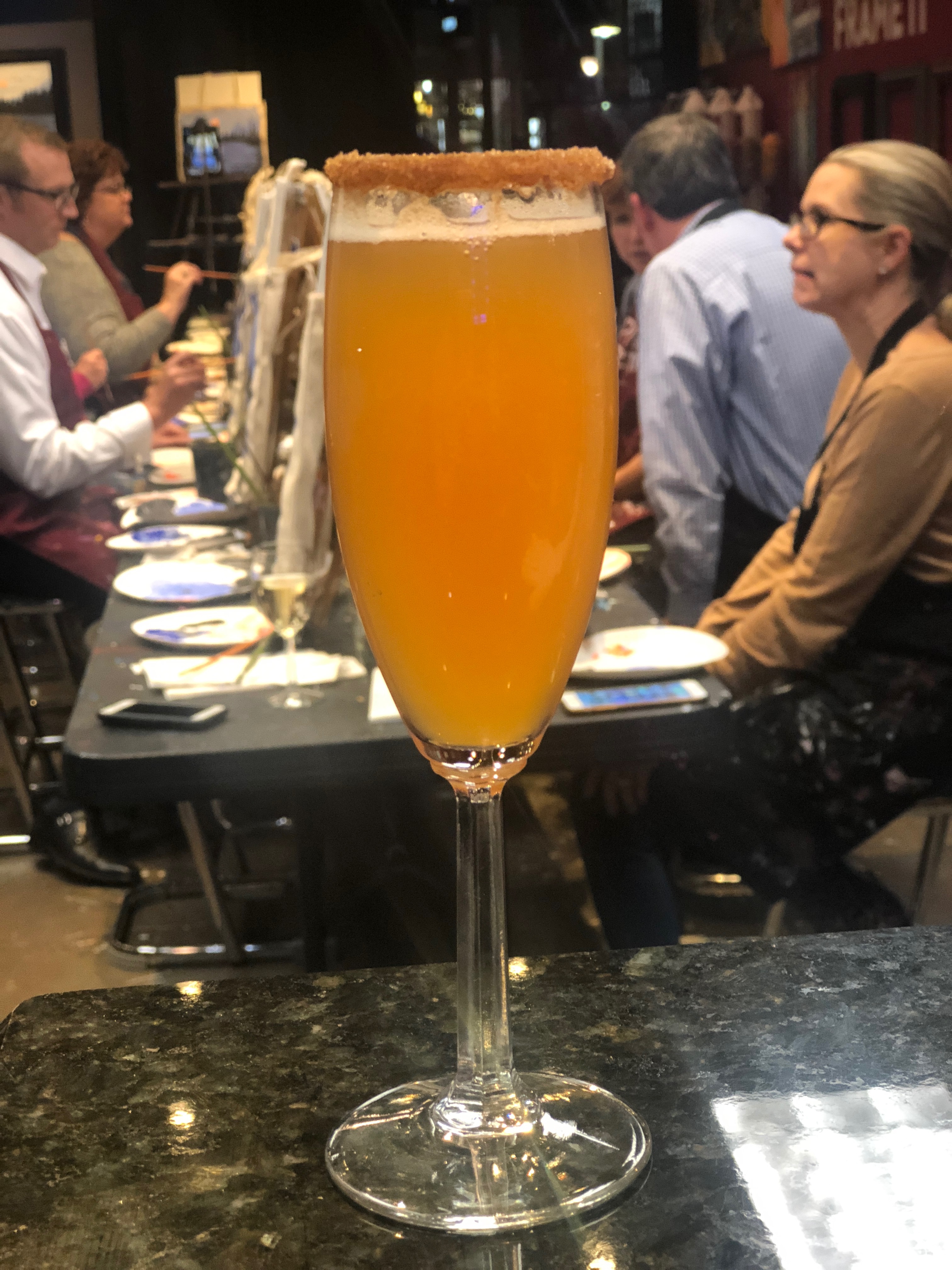 Gerstacker Nürnberg (Glogg)
We have pulled out our Pinot's Palette mugs for Glogg! We have added a couple of bottles of Gerstacker Nürnberg (German descent) to our wine rack. If you haven't tried it yet, you should check out our bar to see what it's all about!
History
People would travel from all over the world to the old Imperial city of Nurnberg in Bavaria, for the Christkindles Market, to partake of the revelry and enjoy Nurnberg's secret, "Gerstacker Gluhwein" or Glow Wine. A tradition in Nurnberg for untold years.
Taste
Glogg is a red wine served warm. Here at Pinot's Glenview you can find our Crock Pot on high brewing this unique spiced wine topped with cinnamon sticks. It has a delicious cranberry taste with a blend of holiday spices.
We have two new resident wines on our menu! One of them is a Shiraz made by Bulletin Place, which is from Australia. This shiraz has a nice dark fruity taste to it. The other new wine is a MAN Sauvignon Blanc form South Africa, which tastes a bit herblike. You can buy both wines by the glass as well as by the bottle! The Shiraz is just $6 a glass, and the Sauvignon Blanc is $7 a glass. If you're feeling reluctant to try it, on alternating Thursdays, we do have Thirsty Thursdays – during which all glasses of wine are just $5! Come by on a Thirsty Thursday to try a glass!
Support our local breweries by trying their beers on our menu! Ten-Ninety is a brewery just a couple of blocks east on Waukegan Road in Glenview. As of now we have 1 of their beers, Half Wit, which is a delicious Belgium wheat beer! We sold Oktoberfest last month but it was such a catch we're already sold out! Don't fret - More season beers are on the way! Half Wit's label was deigned by one of our artists, here Sammi Kroll. She designed the new labels for the Half Wit and Oktoberfest, and we're so proud of her! You can see the cans on our bar counter if you stop by! We also have a new beer on our menu from another local brewery – Temperance Beer Company is made in Evanston, Illinois, which is just two towns away from us by Lake Michigan! Their beer, Birdsong, has a lemon pepper taste, and you can get it cold from our fridge!