DIY Painted Halloween Masks!
Every year in the month of October, Glenview is plagued with the dizzying, heart-aching dilemma: Finding ways to do a DIY Halloween costume without breaking the bank.
Buying styrofoam, felt, sewing supplies, and makeup can be a fun superstore adventure; but putting together the costume can be a very daunting task. Not to mention – at the end of each Halloween party, someone's going to have to sit in the bathroom scrubbing the makeup and face paint off their face. Sometimes, the DIY costumes cost even more than the store bought costumes! Is it worth the time and investment? (We think yes! But we have some other options for you too!)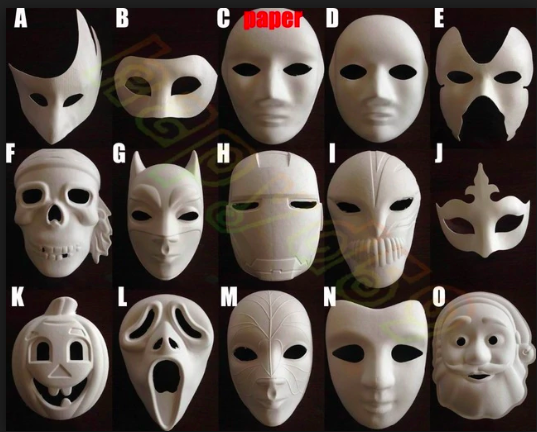 Save yourself a couple bucks by painting your own costume mask! Not only will you save yourself from a potential skin rash, you will be able to reuse the mask for many Halloween nights and costume parties to come! This is a great idea for last minute Halloween DIY costumes, putting your own original and creative twist to your outfits, and this is also good for any Halloween craft parties you might be hosting.
SUPPLIES:
• Cardboard or any face mask with a surface you can paint on!
• Acrylic paints
• Gesso or extra white acrylic paint
• Paintbrushes or any paint applicator
• Newspaper or any surface to do your crafts on
• Smock (to protect your clothes!)
• Water in a cup
• Scissors
• Dowels
• Masking tape
INSTRUCTIONS:
1. Prepare your designated painting area with a newspaper, or use a craft table. Put on a smock to protect your clothing
2. Plan out the design or face that you are going to paint onto your face mask
3. If you are using cardboard, trace the shape of the mask that you are going to use, and cut it out with scissors
4. Prime your face mask with gesso or white acrylic paint – this allows the paint colors to show up on your mask and stay on. If your face mask is made out of a shiny material, use gesso as opposed to white acrylic paint, since the purpose of gesso is to enable people to paint on many types of surfaces
5. Let priming layer dry
6. Using your acrylic paints and brushes, mix the colors you want to use for your mask
7. While your paint layer is drying, tape a dowel to the backside of the mask if it will be a handheld face mask – the dowel will act as a handle for the mask. If one dowel is not stable enough to hold onto the face mask, use the masking tape to tape 2-3 dowels together to make a thicker handle. Then tape the dowel(s) to the backside of your mask!
8. Once your mask is dry, you're free to use it for as many Halloween parties as you'd like!