5 Powerful Benefits to Knitting a Chunky Blanket
At first glance, knitting can seem like a simple hobby to help pass the time. In reality, multiple studies have shown how knitting involves many benefits that affect both your health and self-esteem. Here at Pinot's Palette, our chunky blanket knitting classes let you cut down on your stress, take time to learn a new skill, and feel great after finishing your new cozy blanket! As much as we believe it's important to have fun, we want to create an atmosphere where you can relax and learn something new. If you still aren't convinced to come join us for a knitting class, take a look at some of the amazing benefits knitting a chunky blanket can inspire!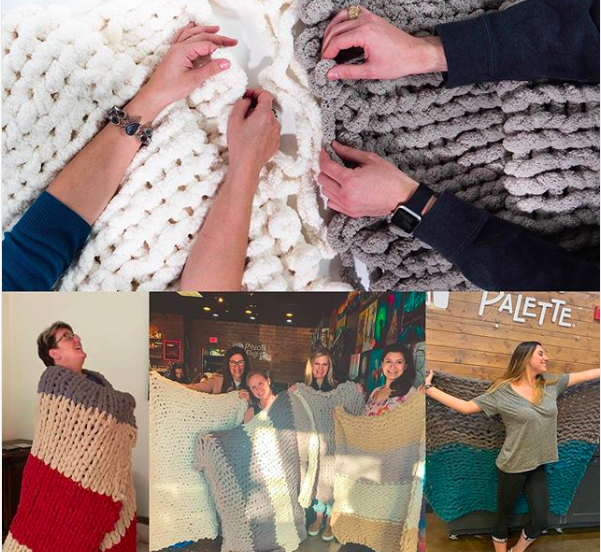 Knitting Can Help Relieve Anxiety:
With the hectic hustle and bustle of our daily lives, we're always looking for the best way to tend to our feelings of stress or anxiety. Look no further! Research has shown that knitting has a calming effect on anxiety and relieving stress. According to an international survey, picking up and working with a strand of yarn can help you feel calmer and happier. Another study has shown how knitting as a social activity can ease your preoccupations and make you feel like you fit in with a group. Why not join one of our chunky blanket classes and chill out together with friends?
Knitting Can Help Manage Chronic Pain:
Many of us of all ages may suffer from chronic pain and spend a lot of our time trying to ease it. Fortunately, a study has shown that knitting can be an answer to controlling that pain. Not only can it help with physical pain, but knitting as a social activity can provide you with a new support group. We at Pinot's hope to be that support group for you!
Knitting Can Slow Cognitive Decline:
Looking for ways to exercise your brain and keep it healthy? Studies have shown that knitting can help you do just that! Knitting causes you to use your brain through every careful stitch you make, so your brain gets the stimulation it needs. According to the Mayo Clinic, seniors who participate in knitting or other crafts are about 30 to 50% less likely to suffer from a mild cognitive impairment than people who don't engage in crafts. Let's toast to healthy minds and cozy blankets!
Knitting Can Act Against Arthritis:
Knitting not only promotes a healthy mind, but it can keep your joints healthy too! Doctors say that knitting is an activity that can build up cartilage in your fingers and make your joints stronger. Knitting provides your finger joints with enough stimulation to build strength, but it's easy enough on the joints so that they end up getting worn out. Our chunky blanket classes are a great way to keep your fingers busy!
Knitting Promotes Pride and Self Esteem:
It always feels good to learn a new skill and make something new all by yourself. Knitting can be your fresh new skill! Not everyone can say that they know how to knit, so why not stand out and show off your beautiful knitted blanket? Not only is knitting a fun activity, but it gives you an end product that helps you feel accomplished! Knitting chunky blankets is a hobby you can show off to your friends, or better yet, inspire them to get crafty too! At Pinot's Palette, we hope you feel proud of your diy project and feel good about learning a new skill. Cheers to trying new things!
Knitting a chunky blanket is a fun way to take care of yourself and relax with friends! Sign up for one of our chunky knit blanket classes this month on October 19th or October 27th!