Barre & Brushes
When's the last time you stretched those dancing muscles? Get off your computer and get moving with our event "Barre and Brushes!" Next door to our painting studio is a fitness studio called Pure Barre. Although barre exercises aren't dances, per se, they do have an energetic vibe that will get you moving and basically dancing on your way in and out. And on Wednesday, August 15, we are teaming up with Pure Barre for a night out painting with benefits for Pure Barre members and Pinot's customers!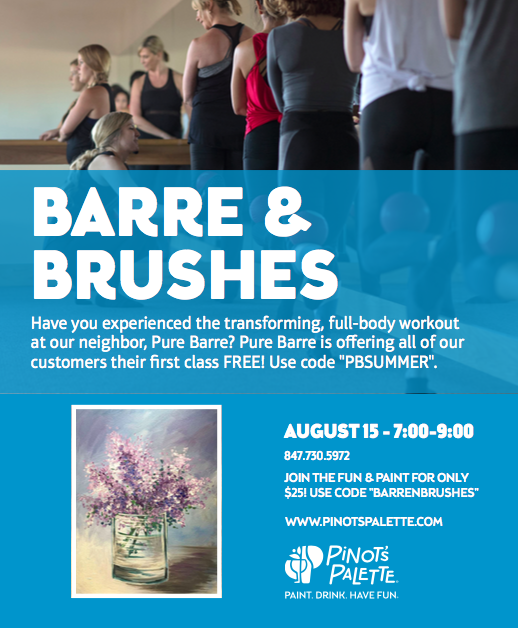 Pure Barre is offering all of our customers their first class FREE anytime between now and August 15th. This 50-minute workout will increase your strength, muscle tone, posture, and flexibility. If you have any restrictions in regards to motion or ability, Pure Barre can adjust the workout for you!
Members of Pure Barre will receive 50% off of their first painting event at Pinot's for a relaxed night out with friends, and are able to leave with their very own masterpiece! Our "Barre and Brushes" event will include our popular painting, "Lilacs In A Jar." It's a 2-hour painting, and the class is from 7pm-9pm. This painting would make a fantastic piece in your home created by you yourself! Or it could make a very heartwarming gift for someone you care about – maybe even someone you could trust as your workout buddy.
Interested in registering for the painting class?
1) Go to
https://www....event/258984 
2) Select "register" and put in the code "BarreNBrushes" at the checkout
Interested in getting the free class at Pure Barre as a Pinot's customer?
1) Go to purebarre.com/il-glenview and selected "Purchase Classes"
2) Select "First Visit (First Time Clients Only)" and enter promo code "PBSUMMER" at the checkout
3) Register for your first class on or before Wednesday, August 15!
And don't forget – because it will be Wine Wednesday on the day of our event, all bottles of wine are 25% off each!
If you have any questions about Pure Barre and their franchise, feel free to visit their website at purebarre.com or call their Glen location at (224) 661-3928.