Paint and sip glenview team featuring Sunshine
Check Out Our Amazing Paint and Sip Glenview Team!
All about: Sunshine, Instructor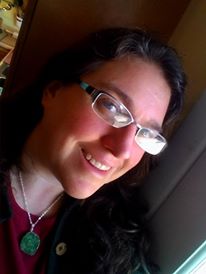 How long have you been painting and what is your favorite piece of art?
I've been with Pinot's since The Glen location opened. I love teaching here. Van Gogh's Almond Blossoms is my favorite painting, It's simple dramatic, and it comes out beautifully no matter how experienced the artist. It's fun to teach and looks amazing.
What is your favorite activity/hobby and why?
I volunteer at Wagner Farm working with the Draft horses. They are so calm and gentle, it almost meditative to work with them. Bonus, in the event of a Zombie apocalypse knowing how to work the land will be a valuable skill.
What is your favorite cuisine/food and why?
Thai, I have so many allergies and food restrictions, Thai food gives me the most choices. I love the sweet, sour, spicy combinations. I'm allergic to wheat so the rice noodles are great. I'm a vegetarian, most Thai restaurants let you use tofu or extra vegetables as a meat replacement.
If you could go anywhere right now, where would it be?
Its been so long since I visited my friends and family in California I would love to go there for a visit. I grew up in CA and moved here about 6 years ago, I love my new friends and family here, but it would be nice to hang out with my old friends for swirlies and see my parents.
Who inspires you?
It might seem cliche but my inspiration is my mother. In an era when few women went to college let alone studied math, she got her degree in computer programming. She is brilliant, calm and competent. If you give her a problem she will give you several solutions. When she found herself out of work during an industry downturn, she decided to go back to school for her masters in education. She now teaches Middle school math and science, giving a new generation of girls a great role model.
What is your favorite season?
I love Spring, seeing the earth come alive with color and possibility. I'm a gardener and after being cooped up inside for months the chance to get out and get my hands dirty is a joy.
What superpower do you wish you had?
Having a teenage son, this is something we talk about often at the dinner table. The most practical one is to freeze time. Forgot to do your homework? freeze time and get it done. Left your wallet at home? freeze time and run back to get it. See someone dropping a glass? freeze time and catch it. But who wants to be practical, I would want to fly.
What was your favorite trip you've taken?
The last one, it wasn't far, just to Indiana. My son and I went to celebrate my Grandmas 95th birthday. , My aunt Weeze organized a beautiful event, the whole family came together to help make it happen. Grandma Dottie glowed surrounded by her friends. I don't think she sat down or ate a thing during the 4 and a half hour party, she was too busy talking to everyone. She took care of everyone growing up in the family, not just her 5 kids, she babysat the grand kids, knew everyone's favorite pie and would make it when they came to visit, and made every birthday cake for the last 75 years. She led a full life, it was amazing to celebrate it with her.
Anything else we should know about you?
Yes it's my real name.