Paint and sip glenview team featuring Shaina
Check Out Our Amazing Paint and Sip Glenview Team!
All about:Shaina, Artist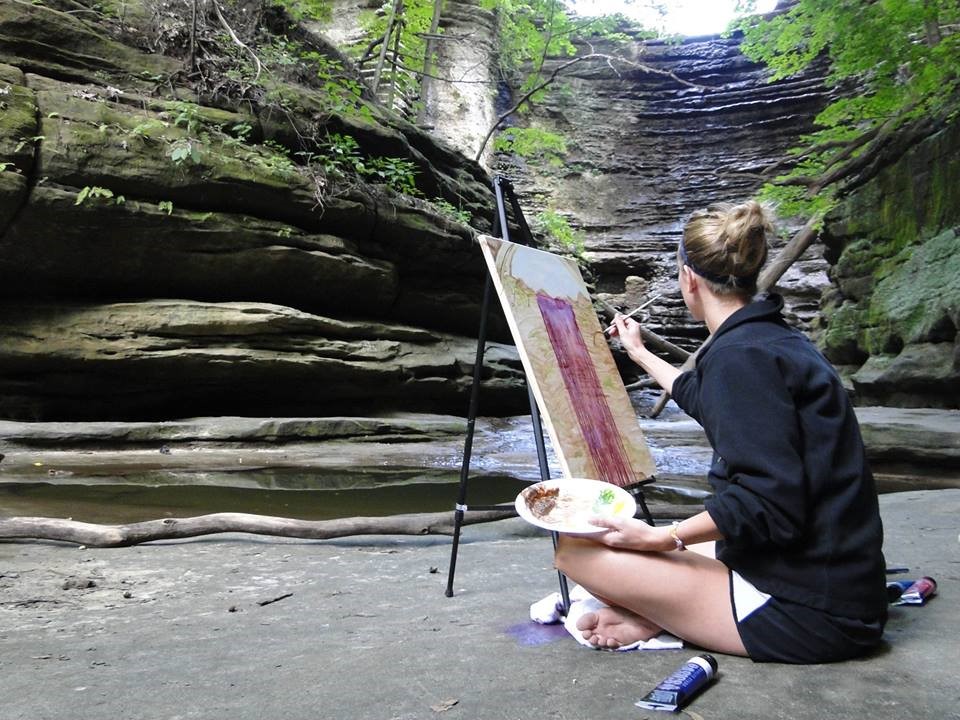 Name: Shaina Droessler
How long have you been painting and what is your favorite piece of art?:
I can't remember a time when I didn't love art! I would say I've been doing anything and everything art related since I could walk. I really kicked it into gear in junior high when I started taking drawing classes, and continued various art courses until I graduated from college with a degree in Graphic Design.
What is your favorite activity/hobby and why?
Outside of painting or doing other artsy things, I am a soccer player. I've played since I was in 1st grade and I still play in rec. leagues. I don't think I'll ever get sick of playing.
What is your favorite cuisine/food and why?
Does being super delicious count as a cuisine, because I pick that! It's hard for me to pick one category because I love trying new foods all the time. I suppose, if I had to choose, BBQ'd anything has a special place in my heart, especially ribs or pulled pork. Yum!!
If you could go anywhere right now, where would it be?
I would go to Australia. I'm really not sure what draws me to it, but I've always wanted to go there. I just picture the coral reefs and the outback to be breathtaking.
Who inspires you?
Happy people inspire me! It doesn't matter where I am or what I'm doing, if I see someone, a family, whoever, who is genuinely happy, kind, and just enjoying life, that is so inspiring to me. It's so easy to get wrapped up in everything in this world, so seeing people forgetting all of that and being happy and kind is wonderful!
What is your favorite season?
Fall, hands down! The weather is gorgeous, and I'm someone who would spend every second outdoors if it were possible. Also, being an artist, I'm a big color person, and every year I look forward to seeing the leaves change.
What superpower do you wish you had?
For those who don't know me, I'm not a very tall person. Ever since I saw the Incredible's movie I've wanted to be stretchy like Elasta Girl. She can stretch to reach anything no matter how far it is. Do you have any idea how handy that would be?! Plus I could fit into any outfit I wanted! Just stretch out my legs to fit the right length pants, it'd be amazing!
What was your favorite trip you've taken?
I love to travel, and doesn't even really matter where. The excitement of exploring a new place, seeing new things, experiencing a new culture, tasting new foods, etc, is just amazing to me, but out of the trips I have taken, I'd say my trip to Norway was my favorite. To set the stage, I had never been on a plane before, and then I flew to Norway with my best friend, her sister and their mom. We stayed for three weeks, with some relatives they have in Rundaburg, Norway. The entire trip was so much fun, and staying with a family allowed me to get a feel for the culture!
I have to briefly share the most incredible part of the trip. The family we stayed with had a son who was our age; we were all 20 years old at the time. The son's closet friend was blind. Simply, the experience of getting to know him and realizing all the everyday challenges of not having your sight was amazing. Then we all planned to hike up Preikestolen together. Assuming many are not familiar with Preikestolen, it's 1,982 ft tall up with a plateau allowing visitors to rest and enjoy a spectacular view of the Lysefjord and surrounding mountains. It's beautiful! Well, the son led his friend, who is blind, the entire way through 2.4 mile of steep, rocky terrain hiking. It was absolutely incredible! The amount of trust they had in each other was astounding. Then to reach the very top and not be able to see the view sounds very disappointing, but he was just so happy that he was able to make the hike he didn't seem to mind.
Anything else we should know about you?
I'm a Freelance Graphic Designer and Artist. Check out my website or follow me on the social media to stay tune with my latest project! Contact me anytime if you want something created!
Instagram: @shainadroessler,
https://www....inadroessler/
Facebook: Shaina Droessler,
https://www....327862636678/
Behance: Shaina Droessler,
https://www....ainaDroessler
Twitter: Shaina Droessler,
https://twit...ainaDroessler