Paint and sip glenview team featuring Deanne
Check Out Our Amazing Paint and Sip Glenview Team!
All about: Deanne, Bartender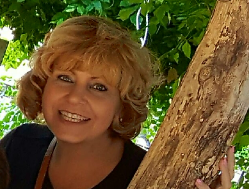 Name: Deanne Bielat
How long have you been bartending and what is your favorite drink?:
5 years bartending. red ale beers
What is your favorite activity/hobby and why?
Antiquing – items today aren't made the way they used to be.
What is your favorite cuisine/food and why?
Anything with melted cheese.
If you could go anywhere right now, where would it be?
Blackhawks game
Who inspires you?
My daughter. I've had a great life, want hers to be even better.
What is your favorite season?
Fall
What superpower do you wish you had?
Wish I could heal others
What was your favorite trip you've taken?
Nashville, TN during Christmas and New Year's.
Anything else we should know about you?
Ran half marathon in Washington DC two years ago
Lived thru the best rock n' roll but now have converted to today's country music.
Have a rescue pitbull (1 year old) and an "old lady" German Shorthair (16 years old)