Upcoming Paint and Sip Events This October!
Have you seen our October calendar? It's got tons of great deals and events, we're so excited here at Pinot's Palette!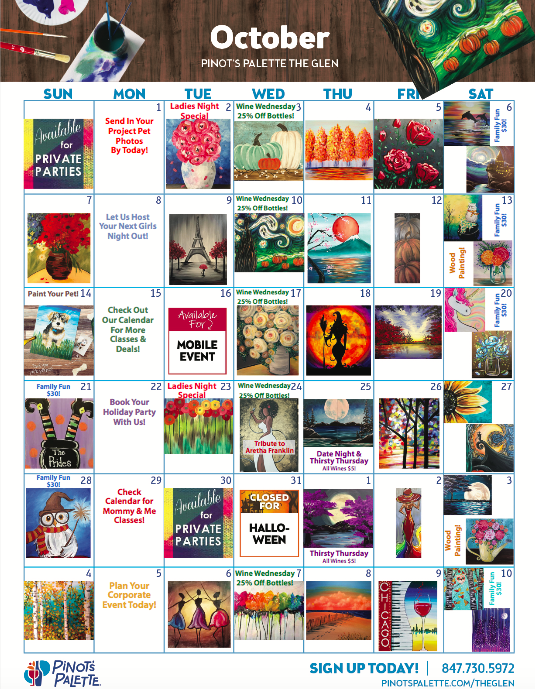 We're so psyched for October, Sammi – one of our artists – and Merrill – one of the owners- have made really spooky decorations to hang up on our ceilings. (Maybe they could show us how to make these sometime.) Come check us out this month! In the spirit of Halloween, we have a lot of Halloween-themed scheduled! We have dragons, pumpkins, cauldrons, witches, owls, ghosts, Jack Skellington, and spooky moons! You can find these paintings in our online calendar, but if you would like to paint a different Halloween painting; you could plan a private party and check out our extended painting library on our website.
Visit our studio during the Glen Town Center's Annual Boo Bash! On October 27th, the Saturday before Halloween, several shops within the town center will be handing out candy, and families are welcome to dress up in their Halloween costumes in the daytime for trick or treating in the Glen. Trick or treating is welcome from 3pm-6pm. Kids are treated to candy, and parents may be treated to gift cards and flyers from some of the stores! Stop by Pinot's Palette on the east side of Tower Drive at the north end of the Glen, and we'll be handing out candy and flyers. Stop by to check out our studio and all its spooky decorations, and show us your costumes! In the future, we plan on having open studios, kids camp during school breaks, and more Family Days – ask us about them!
Check out our weekly deals! Every week, we have Wine Wednesday, which means you get 25% off bottles of wine! We have an evening 7-9pm class every Wednesday evening that we're open. We're closed this month on Halloween, though, so that everyone can get their spook on! On one of the Wednesdays, October 24th, we have a Tribute to Aretha Franklin. On that night, we're painting a singer with a microphone against a golden background.
Looking for other weekday deals? We have Thirsty Thursday on some upcoming Thursdays – October 25th and November 1st. On Thirsty Thursday, all wines are $5 per glass! On the first Thirsty Thursday, we will be having a Date Night (October 25th)! For date night, we will be painting a moonlit lake scene in pairs, so that you and someone special can paint two halves of the same painting.
Looking for weekend activities? We have Family Days on select Saturdays and Sundays! Come and paint with your family – it's also a great idea for parent-child bonding. We have a deal of $30 per seat for Family Days! This October, we have some Halloween-themed paintings for Family days and we even threw in a unicorn painting for any unicorn lovers out there. If you're looking for something different for your home décor, we also have wood paintings scheduled on October 20th and November 3rd. You can always mix up your casual girls night out with these lovely wood paintings so everyone can come home with something to spruce up their walls. We would love to try more of these newer wood paintings and think outside of the canvas, so come to our painting parties and let us know what you think!