BFFs Find Their #happyplace at Pinot's Palette
Cheri & Joann, two BFFs, find their #happyplace at Pinot's Palette. Read their first hand account of painting and sipping at our studio. We bet they are excited about our new Pinot Perks rewards program!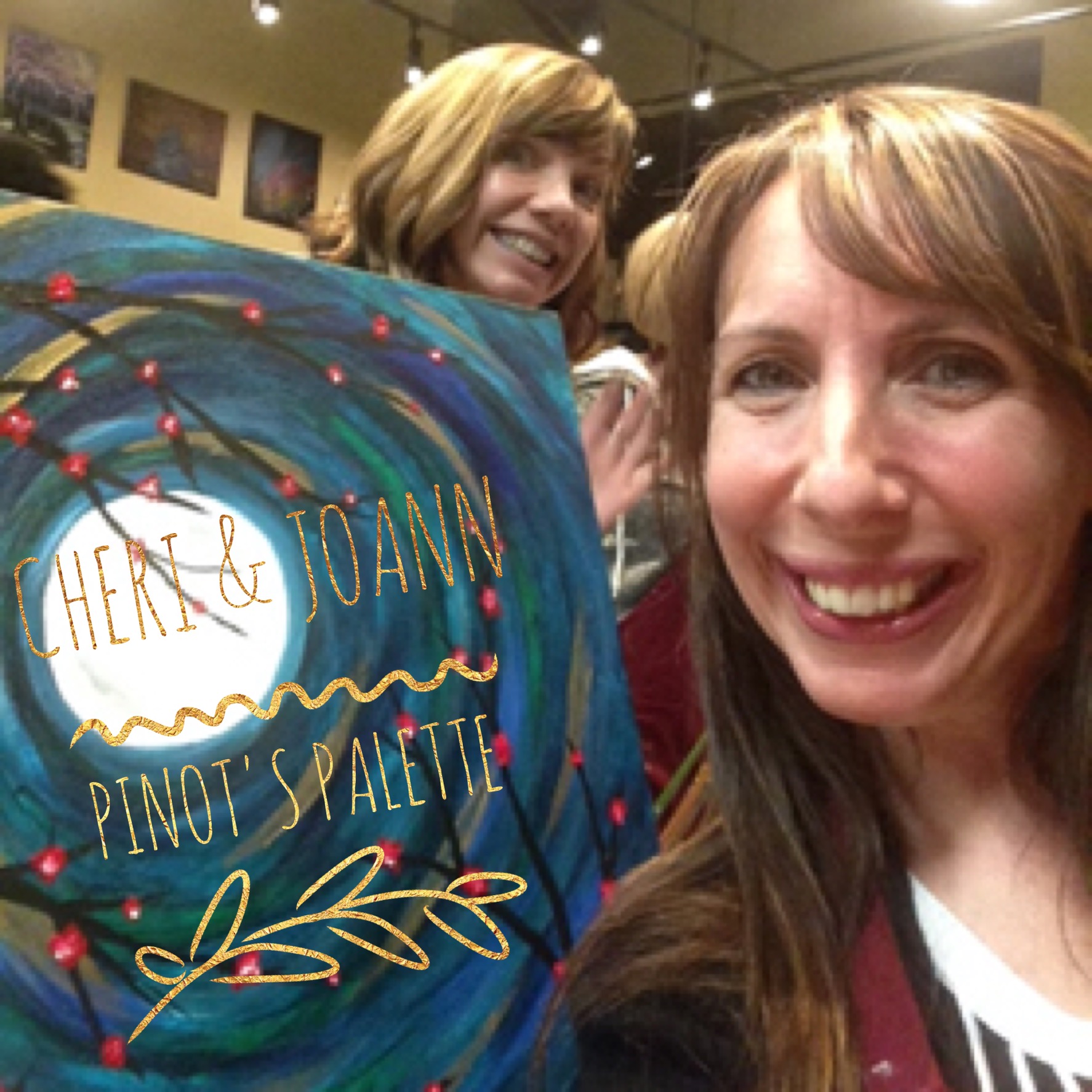 We don't have the most creative jobs-- she's a legal secretary, I'm a business analyst. We've never considered ourselves crafty or artistic. We never really painted much in our lives other than the walls of our house. But then we saw your calendar. Ironically, the painting that drew our attention was on a date that neither of us could make, but it got us looking. Then, it happened… we couldn't make up our mind!! What happens when you can't decide which painting class you take? You take all three! (Even if they are in the same week and your friends think you are crazy)
Tuesday was "Moonlight Through the Trees". We were joined by three friends and could not believe something so beautiful could be created by a swooping swirls and alternating colors. We were immediately impressed by the amount of instruction we were given. We looked at each other and said "we actually have a chance here".
At this point we knew definitely were coming back Thursday night, and Starry Night Chicago on Friday was looking better and better to us.
Thursday came and we learned a new technique. Having to forget everything we learned Tuesday about keeping the brush dry, now it was time for water-- random but intentional drips and smears of black and gray. Yellow leaves finished it off and we had "Foret Noir et Jaune" (it even sounds fancy) We talked one of our friends from Tuesday into coming back. We all had a blast. But Friday was still calling our name. Once we secured child care, we were set to come back!
Friday was time for "Starry Night Chicago". Dashes and swirls, black buildings and yellow stars. I went a little dash crazy (it wasn't hard to do!) A friend from Tuesday joined in and after facebooking our painting addiction we brought along a newbie and it was a party, complete with pizza from Lou Malnati's, Pinot's guest for the night. We loved it and by now we were treated like family.
We're both moms; we both work full time; we are pretty good about making time for fun stuff. Movies, or dinner or weekend coffee. But this was something totally new for us. It gave us time to be creative, each class made us more excited for the next. Our kids could not wait until we got home to see our creations. (In fact, my oldest daughter will be joining me this Friday so that we can create together.) I have no doubt we will remain regulars. While it is doubtful the three times in a week will become a regular thing, I would like to think we could pull it off once a year or something. But we are grateful to you for not just existing, but for inspiring us and making the creating of art a very attainable thing for us.
See you soon –
Cheri & Joann
UPDATE from Pinot's Palette, April 14, 2016: We love you two! Thanks for painting with us -- we've noticed you've found it hard to stay away. ;) See you soon too! Mari (Owner) and the rest of Team Pinot Glenview XOXOXOXO