POP-UP Painting Events & Projects in The Glen
Our September Calendar is OUT and there are SO many cool innovative new projects we have been cooking up for you guys! Between POP-UP Paint Sessions to new DIY classes, we've got everyone's needs covered! Over at Pinot's Glenview we are SUPER excited to have you all join in on our new activities.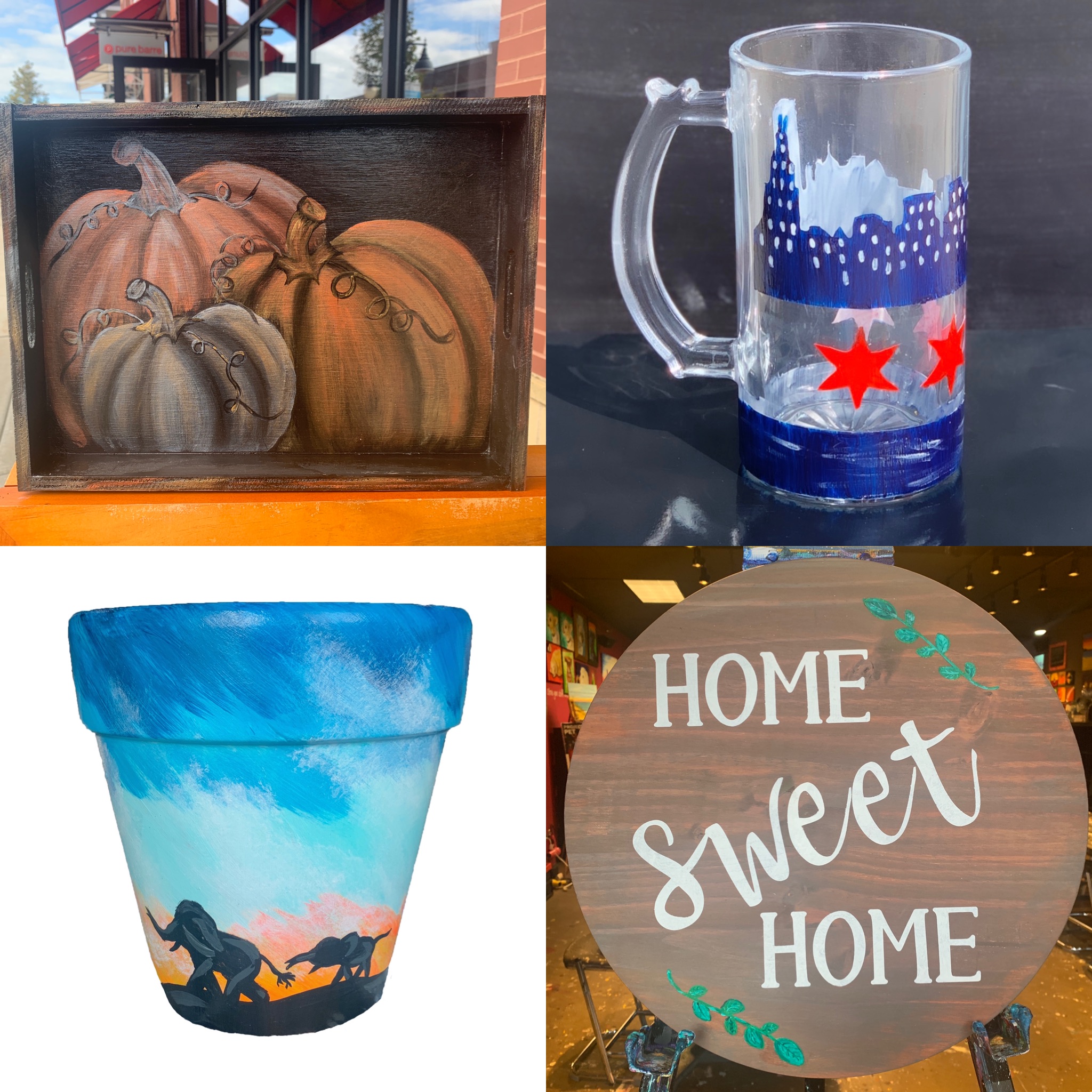 Painting in the Park
We are kicking off the first weekend of September with a POP-UP Painting Event OUTSIDE! "Painting in the Park," if you will. This is an event that we are putting on as a studio for everyone and anyone who wants to have the Pinot's Palette Paint experience only we are outside in nice weather and hearing a Chicago-style blues band play while we paint! We are bringing our painting materials to Navy Park which is located to the left of Pinot's Palette if you are walking out of the studio. This is a Chicago themed night for we are painting a picture of the Chicago skyline, Van Gogh style, and will have a blues band playing during our session. This class is 2 hours – 3:00-5:00 and don't worry, we will have beverages outside too!
IF by chance there is bad weather, we will move the band and everyone inside.
POP-UP Event: "Painting in the Park" Saturday, September 7th -
https://www..../event/354825
POP-UP Event: Painting on Prairie Houses Patio
The weekend after is a similar yet different experience! We will be MOBILE! Prairie House Tavern in Buffalo Grove is hosting us for a night of wine, painting and fun! Their homey bar and patio sets the perfect atmosphere to unwind during any girls-night out, date night, or friends gathering. We will be bringing our most seasoned artist, Sunshine, along with canvases, brushes and everything you can imagine to make this night successful! Prairie House will have appetizers and meals for purchase. Personally, I go for the wraps and wine when I'm there, but they have amazing Chicago style burgers, ribs, wings and more! Since the new owners, they added on a whole new section which is a four-seasons deck. Which means rain or shine this event will happen!
Drink Special at Prairie House Saturday: $13.50 Buckets of domestics 
POP-UP Event: "Painting on Prairie Houses Patio" Saturday, September 14th -
https://www..../event/315549
Vinyl Stencil Wood Workshop
September 15th, the day after Painting on the Patio, is our very first DIY Vinyl Stencil Wood Workshop!
AKA: Rustic Wood Sign Workshop, Wood Board Project, and Vinyl Stencil Project
What does that mean??
After signing up for this class, one of the owners (Kaily or Merrill) will send you an e-mail with 4-5 stencil choices that you will be painting when you come in. The stencils are quotes with a touch of art. Guests come in and prepare their board by viewing and selecting a color stain and wiping down the top surface of the board so there isn't any dust and the stain goes on smoothly. With this step, you should be careful not to over saturate the surface. After, we will have everyone test their stains to make sure we are capturing the correct color each person aspires to have. We will then stain the entire board, and when it's dry, apply the stencil! We provide all the materials you need to make sure you have the cleanest looking quotes and designs.
*All wood board are sanded down to a smooth surface prior to class and come with already attached hangers on the back*
This project is perfect for making signs for your kitchen, living room, and make wonderful gifts for friends!
"Vinyl Stencil Wood Workshop" Sunday, September 15th -
https://www..../event/355380
DIY Chunky Throw Blankets
As some of you may know, we started offering "DIY Chunky Throw Blanket" classes back in May. These classes are great for anyone who likes to relax in a group setting, meet new people, and have a warm cozy snuggle blanket for home! If you've NEVER heard of Chunky Throw Blankets, let me share more with you:
This is a unique workshop where we will guide you step-by-step through hand knitting a warm, soft chunky knit blanket. No needles or knitting experience is required and all supplies will be provided. We will provide you with 4 skeins of yarn, which will create a 40 x 50-inch blanket. We have an array of colors but they vary from class to class. When you arrive, we hand you a little "shopping" basket so you can choose all your colors! First come, first served! 
DIY Chunky Throw Blanket Workshop Saturday, September 21st –
https://www..../event/353083
Large Canvas Painting
CALLING ALL ARTISTS! If you are a bit more serious about art, and have a little more experience, this is the class for you! This class is painted on a 24 x 36-inch canvas which means it requires more time, more room and more brush strokes! So, get on your painter's gear and get ready for your favorite floral painting to be mastered on an oversized canvas! You will NOT leave our studio without a piece you love and can comfortably hang in your home! Will look perfect over any couch or bedroom set. :)
24x36-inch Big Canvas Paint - Sunday, September 22nd -
https://www..../event/355514
POP-UP Event: Beer N' Brushes
Last year we did our first Mobile POP-UP Event at Ten Ninety Brewery, located off Waukegan Road in downtown Glenview. It was so much fun that this year we are painting again! This time on a BEER MUG! Join us to paint the Chicago Flag on a beer mug IN Ten Ninety Brew Room!
More info on the Brewery:
http://www.t...n-ninety.com/
Beer N' Brushes Mug Painting Event – Sunday, September 22nd -
https://www..../event/365066
POP-UP Event: Spa N' Paint
Presented in partnership: Rodan + Fields & Pinot's Palette Glenview!
On this unique afternoon, we are painting while having a relaxing spa day! So, ladies, you do not need to be dolled up for this event! This will be a fun afternoon filled with painting, masks, and giveaways! It is always encouraged to sign up for the class and get the full experience but if only have time to stop by for a little, feel free! We'd love for you to come by, have a glass of wine and learn about these life-changing products. 
Not sure what product would be best for you? Take this skin quiz! 
Everyone who takes my skin quiz will be entered in a raffle to win a FREE R+F giveaway! 
SKIN QUIZ: https://kbelpedio.myrandf.com/solution-tool
POP-UP Event: Spa N' Paint – Saturday, September 28th -
https://www..../event/349062
POP-UP Event: Flower Pot Painting
While we are finding many new mediums to paint on, we came across flower pots and thought….HOW COOL? We have painted flower pots on our own and decided to share the fun with all of you. This is considered a POP-UP Event because it isn't something that will be offered a lot – so when you see that it's a POP-UP – join fast because you won't know when it's coming next!
POP-UP Event: Flower Pot Painting - Sunday, September 29th -
https://www..../event/355516
We look forward to seeing you soon! Join us for one of these fantastic events coming up!
In addition to our public classes, we're also always offering private events where you can book our studio for a special event! 
**Private Parties: https://www.pinotspalette.com/theglen/private-events
**Corporate Events: building events: https://www.pinotspalette.com/theglen/corporate-events
**Kids' Parties: https://www.pinotspalette.com/theglen/kids-painting-party
**Mobile Events: https://www.pinotspalette.com/theglen/mobile-painting-party