Have a Virtual Girls' Night in With Us!
Here's how you can practice social distancing while still having fun with the girls!
Although all of us are working together to socially distance and keep everyone safe, the fun doesn't have to stop here! With a little bit of creativity and a stable Wi-Fi connection, we can still find ways to pass the time with our gal pals. At Pinot's, we're working hard to keep the painting and sipping going for you and all your closest friends!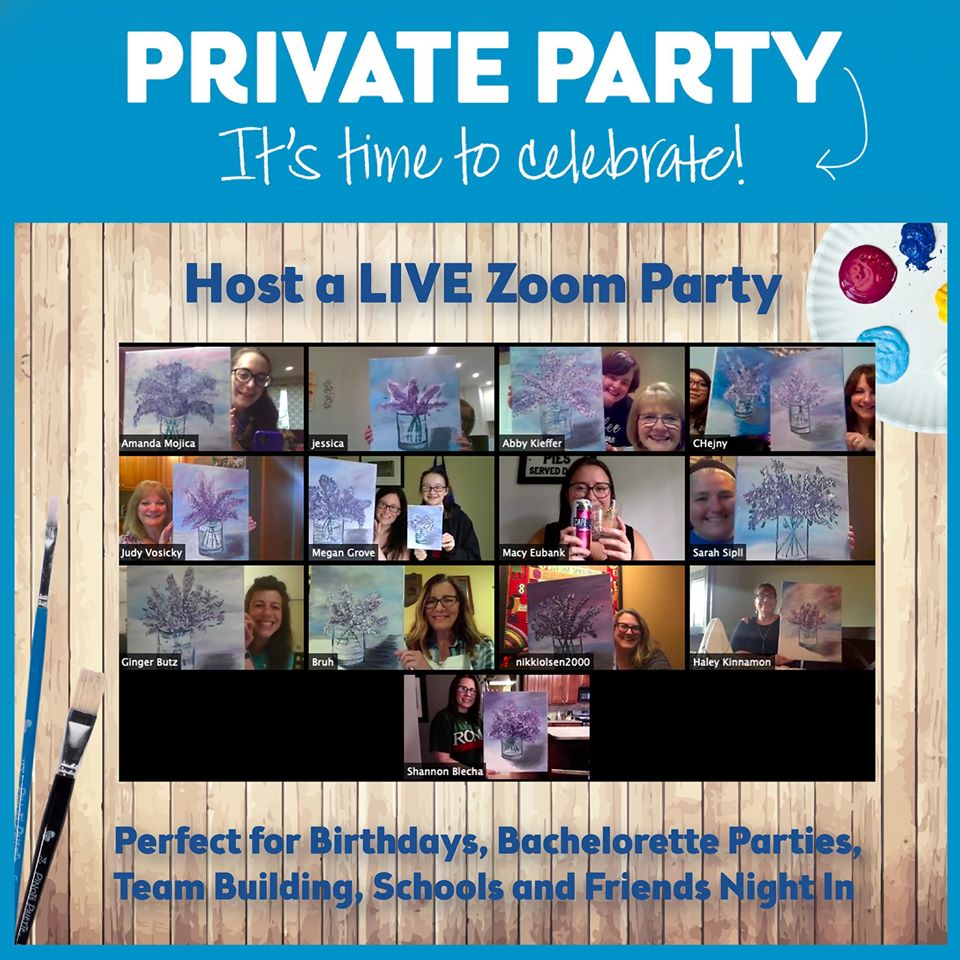 Zoom Private Parties
For the past few weeks, we've been offering our classes virtually through Zoom, and you can still sign up through our website! This is all very new to us, but we're enjoying seeing everyone continue to have fun and paint from home! Are you looking to host a girls' night in? Book a private party with us, open your laptop, and join us in an evening full of painting fun! Private parties can still be booked through our website, though we require that the class is paid upfront during this time. We'll make sure to send out a link to our Zoom chat via email for easy access. Need paint and supplies? No worries! Our studio is dedicated to putting together painting kits filled with all of the paints, brushes, and canvases you will need. You can stop by Pinot's to pick it up curbside, we deliver for $8 extra or we ship! Now you are able to paint with the whole family whether they live near or far and in all different places! Check out the classes we have coming up on our event page! You can see the delivery and shipping options on our shop page.
The fun doesn't have to stop here! Call your girlfriends, pour a glass of wine or two, and get painting together!
Looking for other ways to spend quality time with the girls? There are plenty of ways to stay connected and have a good time!
As many of us are probably binging our favorite movies and TV shows on Netflix or Hulu, why not host a virtual movie night with friends? Decide on a movie or show to watch together, get comfy on the couch, and pour yourself a glass while you're at it! Apps like Netflix Party make it easier to stream movies virtually as a group at the same time, or you can simply all press play on the TV at the same time!
Baking/Cooking Night
Over the past few weeks, a lot of us may have been scrolling through our social media feed and catching on to the bread baking frenzy that's got everyone sharing their fresh treats in the oven. Let this inspire you to have a baking or cooking night with friends! Everyone can agree on a recipe to make–or bring some variety into it– and it will feel almost like hanging out together in one kitchen! Also, share what you baked by exchanging your cooked meals with friends (while abiding my social distancing rules of course). Show your gal pals how much you miss them by cooking them food with extra love.
Virtual Drinking Games
Eager to crack open a fresh bottle of wine or mix a cocktail? Put together a virtual drinking game with friends! Get crafty and make a board game, find some dice to roll, or think of your own creative way to play!
Sometimes there's just nothing better than simply turning on your webcam and talking with your friends for a few hours. Even if it's spontaneous or there are no specific activities planned, staying connected can make all of us feel better regardless. At times when we have to be apart physically, you can always let your closest friends know how much you love and miss them. Friendship and fun must go on!
Stay healthy and stay safe! Cheers!