DIY Pop-Up Workshops & More Events!
As the weather starts to warm up, we got loads of exciting things for Pinot lovers at our studio! We've started adding onto our list of specialty classes, and we've got fun events for adults and kids!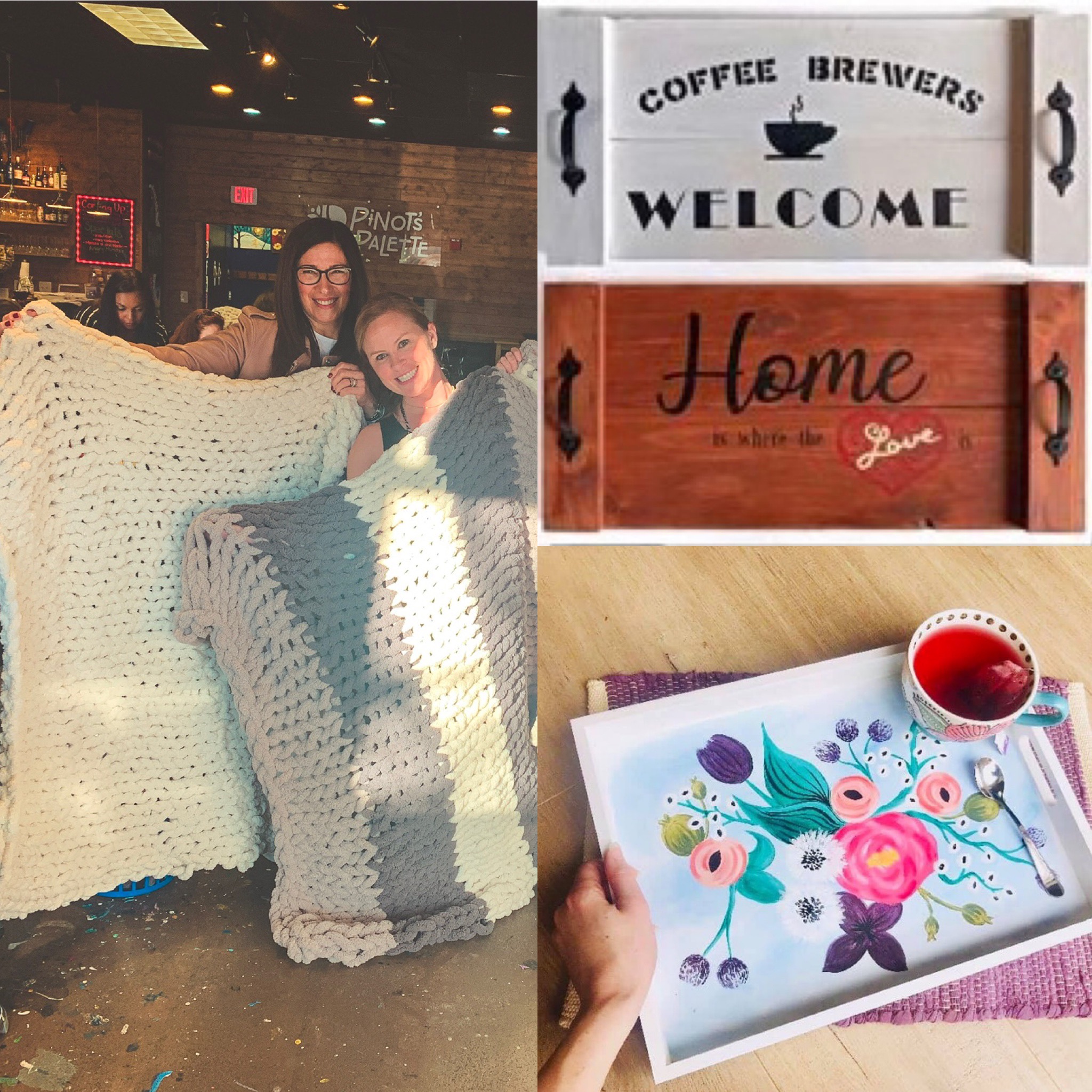 DIY POP-UP Classes:
Tea Tray Painting (July 13): We'll be hosting our very first tea tray painting class! We've got lovely wooden tea trays that we will paint a stylized floral image on. This is awesome because not only can you choose to hang it up but you can also choose to actually use it! $40/painter.
https://www..../event/338492
Project Pet (July 27): Our next Project Pet painting will be in July, so book your seat and e-mail us the photo of your pet that you want to paint for your home! $68/painter.
https://www..../event/331733
Chunky Blanket (July 21 & August 24): This summer, we will be having our new DIY Chunky Knit Blanket classes once a month. Join us in hand-knitting your very own blanket while sipping on wine and socializing with other guests! No knitting experience is needed. $70/seat.
https://www..../event/332379
https://www..../event/337155
3-D Painting (July 15 & 28): We will be having our second 3-D painting "Country Elegance" on Saturday, July 15th where we paint on a wood board and handcraft flowers and a butterfly on the front making it 3 dimensional. Our third 3-D painting, "Les Lavendes" is Sunday, July 28th in which we will be attaching a rope to our painting to make the lavender pot painting come alive! $38/painter. Check it out!
https://www..../event/330882
https://www..../event/338506
DIY Wood Board Workshop (August 10): Our wood board classes have been immensely popular! We usually paint images on our wood boards in class, but this class gives you the opportunity to distress, stain and personalize a wood board with lettering and vinyl stencils for your home! This is $50/painter.
https://www..../event/339760
Outdoor Festivals:
Summer Sound Series (Thursdays in July and August, 6:30pm – 8:30pm): Come paint outside with us on Navy Blvd. in the Glen Town Center (just a few paces away from our studio), and enjoy boozy snow cones!
Glenview Art League Fair (July 27 & 28, 11am – 5pm): Support the Glenview Art League as they host their annual art fair in front of Lyon's School on Waukegan Rd. and East Lake Ave. in Glenview. Come visit our booth, meet our studio owners, and ask us questions about our studio!
Art at the Glen (August 3 & 4, 10am – 5pm): Come see the amazing artwork displayed for sale along Tower Dr. in the Glen Town Center! We will have a booth located right in front of our studio!
Ongoing Events:
Little Brushes Kids Camp: Every other week this summer, we are having our kids camp at the studio! Each week has a different, exciting theme; and each day includes a painting and craft for kids to do! Kids can book by the day or SAVE by signing up by the week!
Open Studio: On the weeks that we do not run kids camp this summer, we will be having an Open Studio on Tuesday through Friday from 11am – 4 pm! Come in with your family and friends and paint on our canvases using our self-guided instructions!
Questions? Call us! 847.730.5972