You are a date night genius!
We're excited to announce the full line up for Valentine's events! We've paired up with some other fabulous local businesses to make this week extra special for you at our studio and can't wait! We've got an event for everyone so read on to see how you might be painting and sipping the week of Valentines!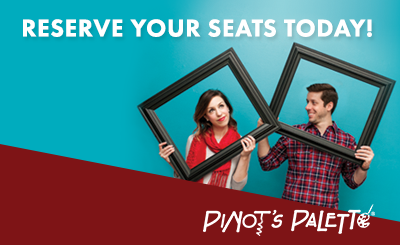 GALentines "Ladies Night" featuring special guest Chop Chop
Thursday February 11, 2016
Forêt Noir et Jaune
7:00-9:00PM
A lovely French grey forest with bright yellow accents that uses a variety of paint techniques for a lively paint session. We're excited to include a free beauty bar experience by CHOP CHOP Mobile Salon & Barber, which includes hair and makeup, for guests as part of our GALentines Ladies Night event. Learn quick and easy DIY Valentine's Day looks for your special date night.
Starry Night Chicago featuring special guest Lou Malnati's Pizza
Friday February 12, 2016
Starry Night Chicago
7:00-10:00PM
Inspired by Van Gogh's Starry Night this painting combines the famous swirly sky with the windy city skyline. This painting looks great across one canvas or painted as a "date night" across two canvases. Lou Malnati's pizza apps will be served for all guests – you can't get more Chicago themed than some good deep dish from this home town favorite!
Family Day featuring special guest Pinstripes
Saturday February 13, 2016
Birdie Be Mine
3:00-5:00PM
These adorable, bright love birds are sure to put a smile on any face! This painting can be painted across two canvases or one! Our special partners for this event, Pinstripes Catering, will be bringing in delicious Frangelico chocolate cakes (bite size for easy snacking) for this event. Yum yum! Fun for the entire family and your BFFs.
Date Night "Rendezvous" – ticket includes one free beverage
Saturday February 13, 2016
Rendezvous - Date Night
7:00-10:00PM
Cheers to you and your date! Your ticket to this event includes one beverage. Pick from one of our house wines (red, white or sparkling) or soda. Remember, you must be 21 to consume any alcoholic beverages!
Valentine's Day Afternoon Date featuring special guest Gigi's Cupcakes
Sunday February 14, 2016
A Charming Love
1:00-3:00PM
Black birds singing a simple love song will add the perfect touch of rustic charm to your home decor. Paint a scene of love birds perched on a tree branch in front of rustic wood plank wall, all wrapped in a charming turquoise frame. Hint hint… This painting does not have to be done on two canvases! It looks great on one as well. Enjoy delicious cupcake flavors from Gigi's Cupcakes!
Valentines Night featuring special guest Morning Glory Flower Shop
Sunday February 14, 2016
Romantic Roost
5:00-8:00PM
Every guest gets a long stemmed rose from our special guests tonight! Morning Glory Flower Shop provided some of the most fabulous smelling and looking roses for our Valentine's class last year we just had to have them back for an encore!
"Hoo" could possibly resist an evening with a glass of wine and this colorful painting? You'll love the sharp contrast of these owls against the expressive background. Date night genius!