Let's Have Some Good Clean Fun!
Hi All - With the recent outbreak of Corona Virus, I am here to inform you that we are keeping Pinot's Glenview sparkly clean for our guests! Your health & safety is our #1 priority (as well as the FUN you have with us)! So, I wanted to go over what we are doing to prolong the outbreak: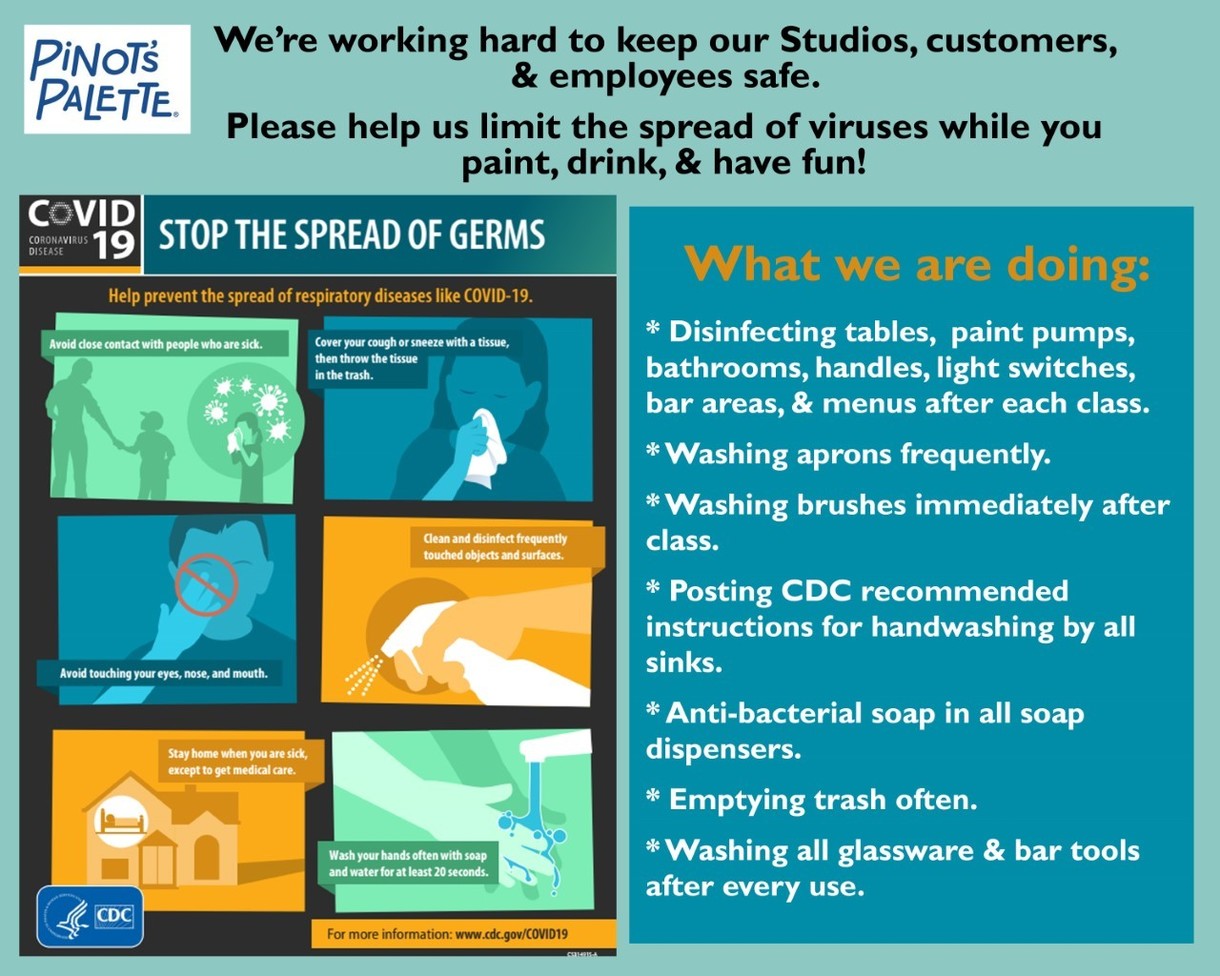 1. Added additional hand sanitizers throughout the studio, including but not limited to the front table and on the bar.
2. Staff will be washing their hands thoroughly throughout the day.
3. Taking home towels & aprons to wash more frequently.
4. Double washing glassware
5. Brushes will be washed immediately after use
6. Disposable Aprons
7. The ladies who work day to day in the studio are deeper cleaning each morning to ensure the health and safety of everyone. This includes sanitizing door handles, tables/chairs, remotes, artist headset and station, bar area - counters and sink.
** We will also spread out your seats so no one has to be too close together creating a crowd. **
If you are still worried about joining us for public events, book a private event with just your friends and/or family:
https://www....rivate-events
The positive news is, the risk of getting COVID-19 in the U.S. is still currently low. The virus looks to be already passing outside countries so I have hope it will soon pass here as well! Undoubtedly, people are taking high precautions as of now but stay positive & upbeat during these times!
If anyone else has any more questions or concerns about what Pinot's Palette Glenview is doing as a precautionary to the virus, please feel free to email Kaily or Merrill at theglen@pinotspalette.com
Stay safe & wash your hands! :)