Artist can apply now. Hiring instructors!
Pinot's Palette, now open in The Glen for 2 years, is excited to be looking for some fun charismatic art instructors as we continue to grow! Customers will follow your instruction while they paint on their own stretched canvases with acrylic paint. The ideal person for this job will have an outgoing personality, strong work ethic, eagerness to learn, positive attitude and the ability to work quickly and energetically with our team of artists.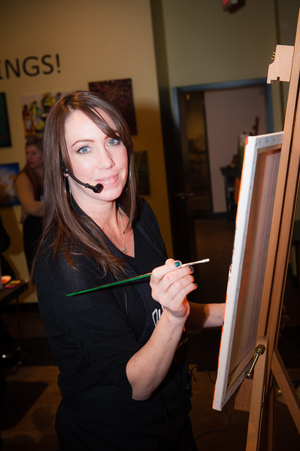 What makes Pinot's Palette unique?
1. Lesson plans you can access online means you can easily prepare for a successful class on the go.
2. Ongoing training like customer service and wine tastings/product testing and quarterly (fun) team building events!
3. Access your upcoming schedules through our PinotAdmin.com site so you can easily plan your schedule.
4. We pay our artists as employees (W-2) vs contractors (1099) which means we pay a portion of your taxes for you (and you take home more).
5. Build your own Pinot's Palette portfolio! Participate in our national gallery of paintings and earn ongoing cash or "talent rights" for the ongoing use of your paintings nationwide. The more times your painting is used, the more you earn!
6. We schedule you for 4 or 5 hour blocks of time so you're in control of the entire event - set up to tear down - and get paid for it.
We know you have your choice of paint and sip studios to work at and hope you will consider joining our winning team at The Glen!
Responsibilities include:
Creating & Developing paintings to be taught in classes and used for promotional items.
Developing & executing detailed teaching methods
Instructing customers during class in an energetic, clear and well-paced manner while encouraging creativity and creating a relaxed, fun atmosphere
Assisting customers and staff member(s) to ensure smooth class flow and promote customer painting success through teamwork and positive attitude.
Required Skills/Abilities:
Ability to design and execute quality, acrylic paintings in various painting styles
Proficiency in Microsoft Word (PC or Mac)Basic computer skills, internet and social media knowledge
Public Speaking or performance skills (comfortable speaking on a microphone)
Time management and communication skills
Preferred Education/Experience:
College Degree in Art or Design related field and knowledge of working with acrylic paint.
Some experience leading a group of people (classroom or otherwise).
Some experience in customer service.
To Apply, please email:Your Resume 3 images of your original paintings Please visit www.pinotspalette.com/theglen to find out more about us.
Location: Glenview in The Glen Town Center (free parking)
Compensation: Starting at $18.5/hour with bonuses, royalties and room for advancement!