Host a Fundraiser with Pinot's Palette!
Are you interested in hosting a fundraiser event for your non-profit organization? It can get expensive, renting a place out for the event and paying for catering and whatever else you would need for a fundraiser. If you book this event with us, we can simplify the costs for you.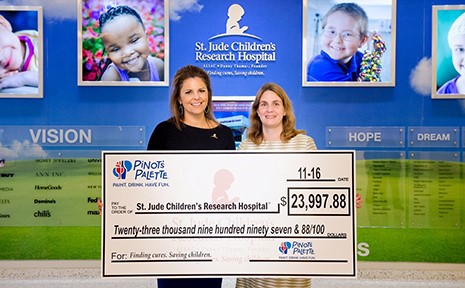 Over the last year, we've done fundraisers with various organizations like Heartland Animal Shelter, Rainbow Animal Assisted Therapy, Child Development Center, For Autistic Kids Foundation, Making Strides Against Breast Cancer, and more! The two fundraisers for the animal shelter and animal assisted therapy were both Project Pets! As the organization booking the event, you have the ability to choose whatever painting is being done. We have an entire Pinot's Palette painting library online, with 500+ paintings that you can choose from! You can also opt for Project Pet, if you feel it fits the theme.
When you book the event, it will show up on our public event calendar as a fundraiser that anyone can sign up for! All you have to do is come in, bring whatever snacks you wish to bring, and be ready to give information and stories to your guests about the cause for which they are donating! On our end, we'll have our painting instructor(s) guide you and your guests through the painting, and we'll have a bartender ready to serve drinks from our bar and help you with any set up for food and decoration.
You'll be pleased to know that Pinot's Palette will also donate to the cause. For every seat that is bought, we will donate $10!
Questions or want to know more? Call or email us!
847.730.5972
theglen@pinotspalette.com