Help Fill The Cupboards!
Every summer, a quiet crisis occurs in Glenview as the temperature mounts and the parks and pools fill with children. That's when the shelves at the Northfield Township Food Pantry, which serves more than 600 local families, begin to empty and some children run the danger of missing meals, due to not getting breakfast or lunch at school.  But we can do something about it, and we want your help!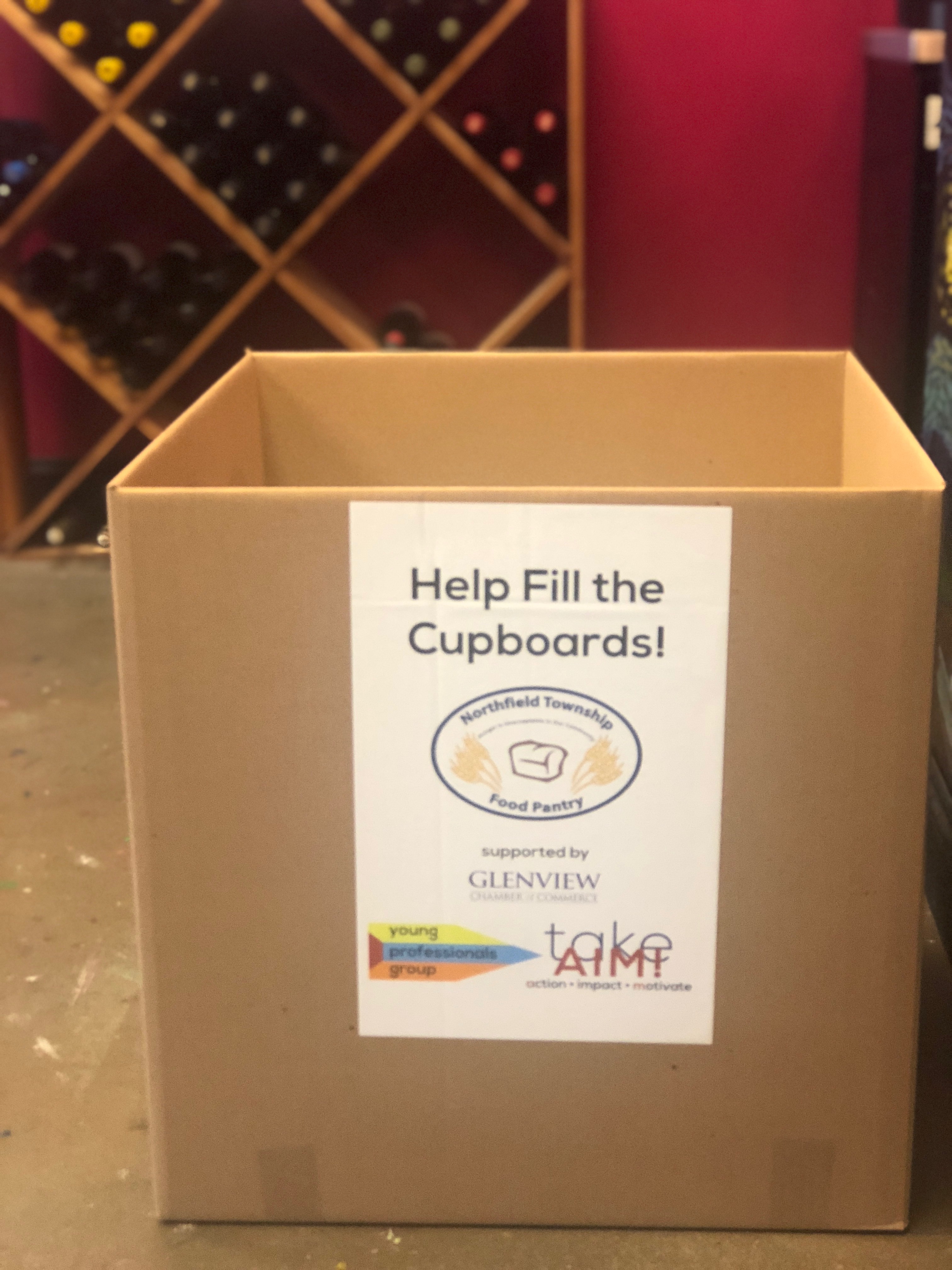 Once again the Chamber's Young Professionals Group (YPG) is tackling this problem. Last summer they collected over 2,500 pounds of food for the Food Pantry. Let's double that this year with your help.
At Pinot's Palette in the Glen, we have a box marked for the food drive in the back by our bar. When you come to paint with us for a public class or a private party, please feel free to bring in donations for the box! The food drive items for the box must be non-perishables, to ensure that they will be good to eat when they are eventually brought to the Northfield Township Food Pantry for redistribution. Toiletries and cleaning supplies are also in high demand at the food pantry!
Food items that would be most ideal for the donation box:
• Canned items such as canned tuna or chicken, canned fruit, canned beans, applesauce, and soup
• Shelf food in sealed jars such as peanut butter and other nut butters, nuts and seeds, beans, and honey
• Boxed items such as cereal, oatmeal, quinoa, flour, and sugar
• Shelf-stable drinks such as milk powder or alternatives, juice and juice boxes, and baby formula
Toiletries and other items that would be ideal for the donation box:
• Toiletries such as toothpaste, toothbrushes, facial cleansers, body wash, shampoos, hairbrushes, cotton balls, and baby wipes
• Diapers of any size
• Cleaning products such as antibacterial cleaning wipes, bleach, bathroom and sink cleaning products, window cleaner, baking soda, mop solution, and unused mops and brooms
And to Paint It Forward, Pinot's will give you a soda – on us! -- from our bar if you bring in 3 items as a donation for the food pantry!
If you have any questions about making financial or perishable food donations to the Northfield Township Food Pantry or volunteering, don't hesitate to visit their page on the Northfield Township website:
https://twp....il.us/pantry/
or call them at 847-724-8300.