Make Your Perfect DIY Holiday Gift This Holiday Season! (Check Out our December Discount!)
The holidays are fast approaching, and many of us are already knee deep in a number of Christmas festivities. As December turns into a whirlwind of decorating, cooking, baking, and time spent with family, it becomes stressful to find the absolute perfect gift for your all of your loved ones. However, gift making doesn't always have to be such a hassle, in fact, it's an opportunity to be creative and decompress through art! Here at Pinot's, we know that the best gifts are the ones you make yourself, the ones that your put a little extra love and personality into! Art and gift making should be a time to relax and have fun! This holiday season, Pinot's is spreading Christmas cheer, dedicated to giving you the right tools to make the perfect presents!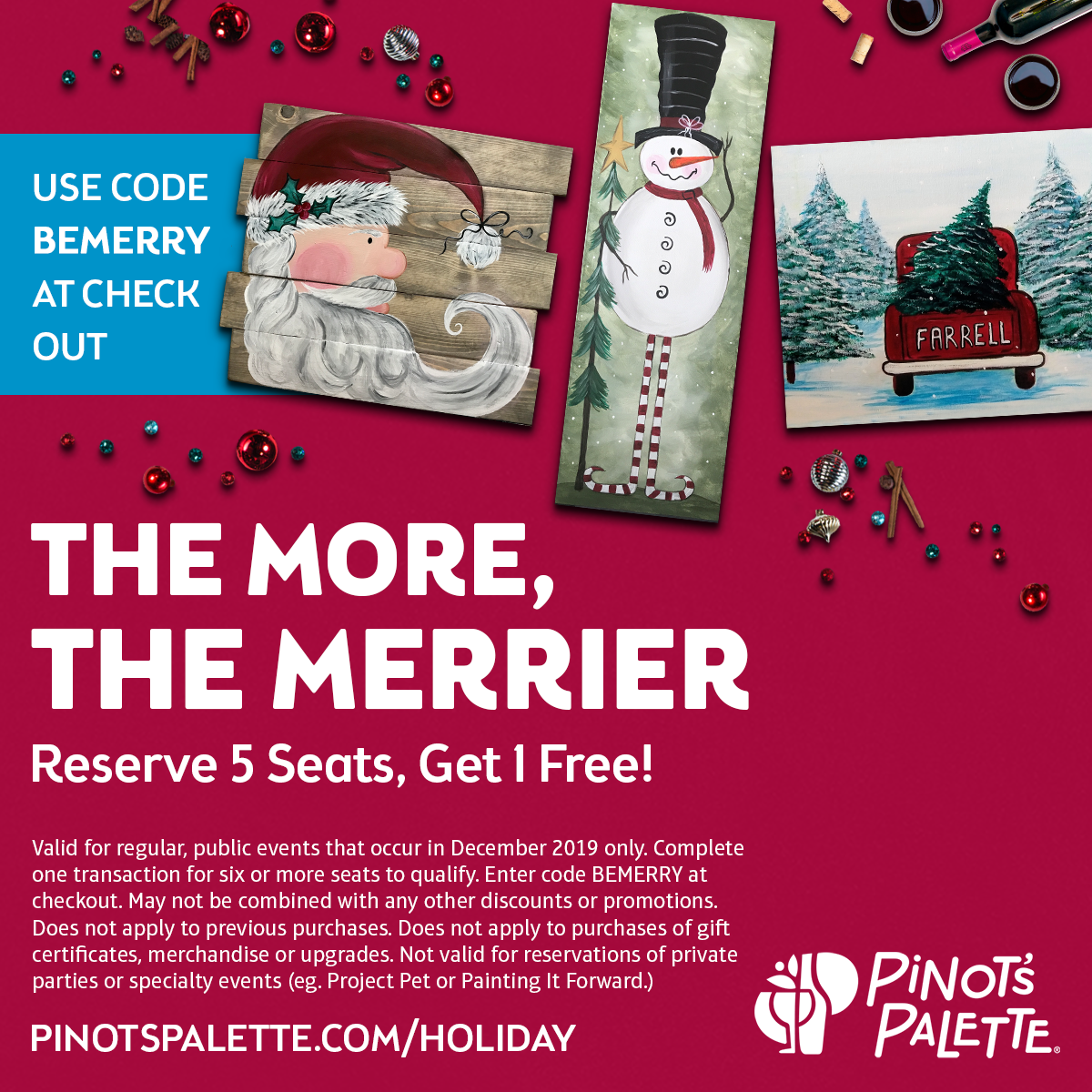 Want to visit us and gift someone one of your masterpieces, but prefer group painting? Looking for a fun holiday festivity for you and your friends? For the month of December, Pinot's is offering a deal you can't miss: Book 5 seats and get 1 free! It's the perfect occasion for you and the whole crew to pick up some brushes (and maybe a few glasses of wine) and have a great painting night out! The coupon is good for any of our regular public events this month, except for our specialty classes that include Project Pet and our Chunky Knit Blanket Class. Use the code "BEMERRY" at checkout and come home with your own beautiful canvas to gift to someone!
Tickets are not retroactive. They do not work with any other coupon.
In addition to our regular classes hosted this season, our Open Studio time is available throughout the month of December. Starting at $15 for an 8x8 canvas, come into our studio and get in on the gift-making spirit! Multiple upgrades are available upon starting your project, such as larger canvases, wood boards, wine bottles, and a quartet of coasters/ornaments! There's something for everyone! We're also open for open studio on Christmas Eve, so anyone who needs to make a wonderful last-minute gift has everything they need! Any of these DIY crafts are sure to make the perfect gift for a parent, grandparent, friend, or just a fun thing to do during Hanukkah!
Need even more crafty ideas? There are plenty of homemade gifts that you can make on your own!
DIY Peppermint Mason Jar Candles:
https://apum...-jar-candles/
Everyone loves a holiday-themed candle to brighten up their bedroom, kitchen, or living room! Using only 5 supplies and three easy steps, you can make someone's day with this lovely peppermint scented candle!
Handmade Peppermint Bath Bombs:
https://apum...nt-bath-bombs
Give someone the gift of treating themselves with a DIY bath bomb! Using a round or shaped mold, you can easily put together a batch of bath bombs that will surely make for the most relaxing baths.
Gingerbread Fudge:
https://www....fudge-recipe/
Need a great gift for someone with a major sweet tooth? Satisfy their sugar cravings with this yummy recipe for Gingerbread Fudge. You don't need to be a skilled baker to make this dessert! With only 5 ingredients and some colorful sprinkles, anyone can make these!
Pinot's is here to help this Christmas season! Come in and join us for a day of gift-making and holiday fun this December! There are so many opportunities to get crafty, paint, sip, and of course, have fun!