Thinking Outside The Canvas
If you've been to our studio in the last year, you may have noticed some empty wine bottles on top of our storage cubbies that have been spun in paint. Some of them have trees or characters painted on them, thanks to our artists and bartenders in their free time! If you have wandering eyes during your painting classes that pass over painted wine bottles and maybe even our painted garbage bins, you might be intrigued to know that we are starting to branch out on objects we can paint on besides canvases! Once in a while, we have a class in which we paint on wood pallets! These paintings on wood can provide a rustic feel that can look gorgeous in our homes. And if you're interested in painting one of these, the next wood pallet painting will be on Sunday, September 9, "Chic Bouquet."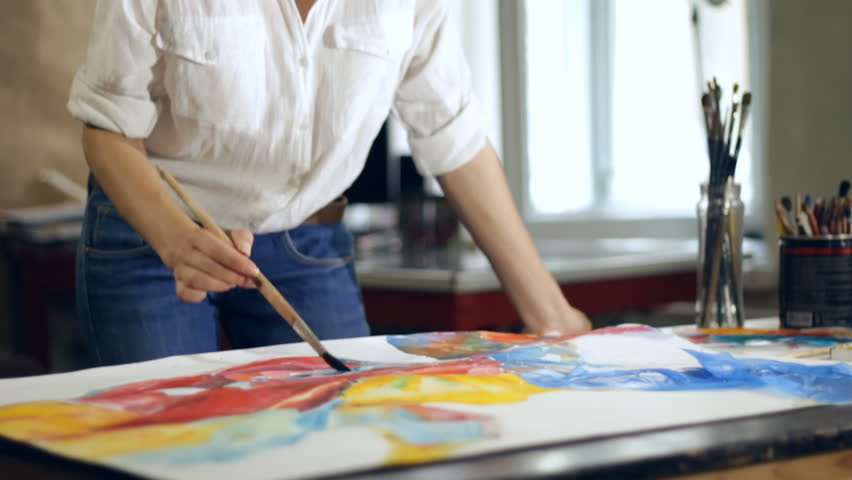 The majority of our paintings are done on 16x20 inch canvases, but feel free to ask us about painting on other size canvases! Some paintings are done on 10x30 inch canvases, and we also have 8x10 inch and 8x8 inch canvases. Just ask ahead of time!
And if you're ever thinking of getting creative on your own at home, think of all the things you could paint on! These could make cute, homemade gifts or creative repurposed décor in your home! It all starts with a primer that can be applied to any surface. Primer makes it easier to paint on things by providing you with a smooth texture with an even background color. Some things that you can paint on include denim jackets, canvas bags, wooden objects (clipboards, chairs, frames). Before painting, do a little online research to make sure you have the right types of paints! You don't have to make an intricate painting – you can paint in simple colors and make simple designs. Sometimes, it's about revamping something old! Nonetheless, embrace your creative side by painting on objects that can be used for different purposes.
If you have any suggestions about classes we can offer in the future, let us know! We are open to ideas about surfaces to paint on and ideas about types of classes to offer!
TUTORIAL: HOW TO PAINT ON FABRIC
Supplies:
• Acrylic paint (can be bought at art & craft stores, like Michael's and Blick)
• Fabric medium (the Americana Fabric Painting Medium is $2.29 at Michael's and the Liquitex Fabric Medium can be bought at Michael's and Blick)
• Paintbrushes or any tool you will use to apply the pain (like sponges, toothbrushes)
• Fabric surface (clothing to paint on – like a jean jacket or a t-shirt or jeans)
• A smock or old shirt (to protect your own clothes!)
• Cup of water (to rinse out paint and fabric medium from brushes – don't use a cup you will drink out of later!)
• Cardboard (especially if you are painting on thin fabric, like a t-shirt)
• Clothing iron
• Paint mixing cups or a painting palette
Instructions:
1. Cover up your clothing with a painting smock and cover your art-making space with newspaper to keep paint off of the floor or furniture.
2. Place the cardboard sheet under/inside the fabric you are painting on to keep the paint from bleeding through onto other surfaces. Make sure that the fabric being painted on is already pre-washed.
3. In your designated paint mixing surface, mix 1 part of your acrylic paint with 1 part of the fabric medium. Proportions may vary – check if there are varying instructions on your fabric medium bottle. Repeat this step for every paint color used.
4. Apply the paint with your brush onto the fabric. Be sure to make the paint layers consistent and even.
5. Wash your painting materials immediately after use with soap and water.
6. Hang the fabric dry in a well-ventilated space for 24 hours, unless indicated otherwise on your fabric medium.
7. Turn the fabric inside out and iron press on the side opposite to the painting for 20-30 seconds to heat set the paint. Iron the whole painting, but do not slide the iron – just press firmly without burning the fabric. If you would like to iron press the front side of the painting too to make it more durable, place a layer of fabric between the iron and the front side of the painting.
8. Your painting on fabric is finished! Although it can be washed and dried as normal, turn your clothing inside out when washing, and try to wash in cold water settings!
Share Americana® Fabric Painting Medium | Liquitex® Fabric Medium