Plan The Best Holiday Party Ever!!!
We all know that as the holiday season begins to approach, things tend to escalate quickly!!!
Too much to do, and too little time to do them! Don't worry.... we're here to help!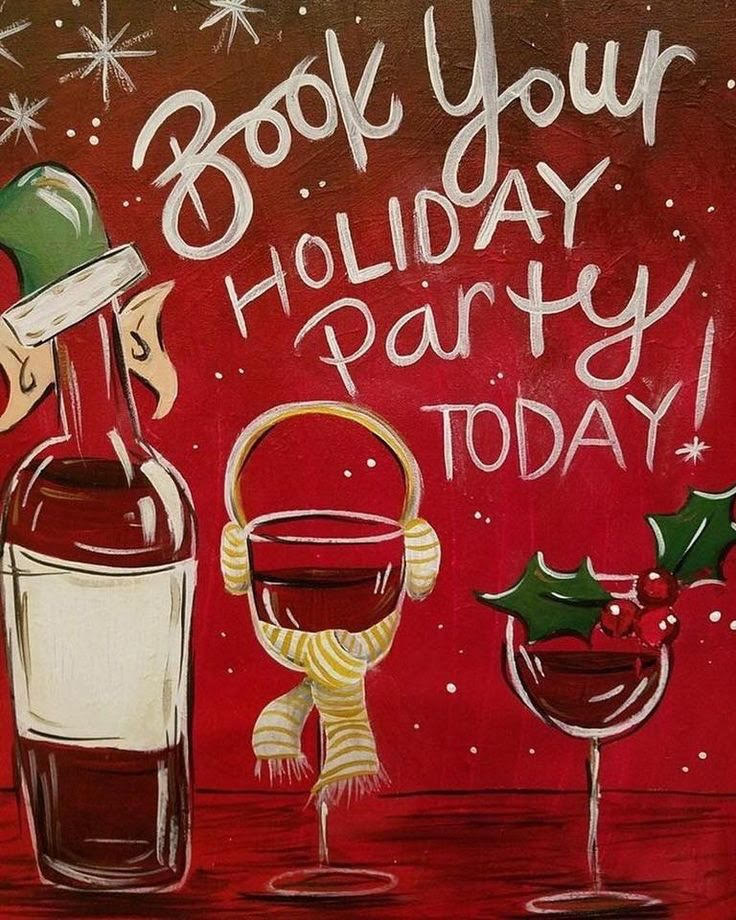 September is, just now, drawing to an end... but look how quickly it went! Think about how fast the rest of the year will fly by, and before you know it, the holidays will be here!!! Stress less this year, and start planning your holiday party NOW!
We have found some amazing holiday party ideas, we'd love to share with you. These include party themes, food and drinks, games, and more! Use a simple checklist to keep track of what's been done, and what still needs tending to.
We're here to promote Pinot's Palette, St.Louis Park, as the perfect venue for your party! Ok, yes, we may be a little biased about our studio being thought of as 'the best place to have a holiday party'.... but for good reason: so many of our past, private parties have been a HUGE success! Time and time again, we have returning customers in our public classes, and the same is true for our private events! We have customers coming back to host another party at Pinot's Palette, anytime they need a venue. It's such a fun and unique experience for a party, so it's no wonder people LOVE it!
Think about all of the cliché, office Christmas parties you may have heard of (or experienced, yourself) in the past...
Having the same old fruitcake and coffee, while, unintentionally, discussing office business, and walking out with a mug that displays the company logo (to add to your cabinet with the other 5, from previous years)... not awesome.
Spice things up this year and be the envy of everyone in the office (or your friends/family circle), for planning such an incredible event!! Pinot's Palette is the ultimate place for your next party!! We offer 2-3 hour paintings, that are taught, step by step, by one of our professional artists. When it's YOUR party, you choose the time and date, the painting, the music, the guests, and more! It's your studio for the whole class and you get to run the show!
Don't worry if you haven't picked up a paintbrush since 2nd grade... that's what we're here for. Our classes are designed with beginners in mind! We take it slowly and always offer help and encouragement. Our main goal is for you to have fun! It's good to relax, drink some wine, and unleash your inner-creative self! At Pinot's Palette, that's exactly what you'll do! This December, bring in your friends and family for an unforgettable holiday event; or, show the whole crew at work, the best office party they've ever seen!
____________________________________________________________________________________________________
**Here's how to start planning now:
((Keep this in mind, as your checklist for planning the event)):
#1- Select your guest list: maybe you host an annual Christmas party in your home every year, but are tired of doing ALL of the work. You do everything from cleaning your home, to preparing all of the food and drinks, and then handling all of the cleanup.. phew... that's a lot! Let us help you! We will help set up, provide the drinks, have everything ready for your guests, and then handle the clean-up at the end of the night! We want to take some of the weight off of your shoulders and let you enjoy every minute of the party, too!!!
Maybe you're in charge of organizing the corporate party this year. Trying to decide on something everyone will enjoy, sticking to a budget, and hoping everyone will loosen up a bit and have fun.... it can be overwhelming! Bring your coworkers (or employees..) in to our studio where they'll be out of the office, leaving the work-talk there, and seeing one another on a new level! Conversing over wine and art techniques is a great way to get everyone together for a fun night out!
#2-Set the date and time:
*think about what day and time will work best for your guests and book it right away! The sooner you get the date reserved and put on the calendar for your guests, the more likely you are to have the most RSVP's saying, "yes!"
#3-Pick the venue-- of course, you'll want to contact us through our website, or feel free to call or stop in, for more info!
-Private Parties:
https://www....ivate-parties
-Corporate Events:
https://www....porate-events
#4-Pick your party theme!!
Your party can be as simple or involved as you'd like!! People typically LOVE a good theme-party.. and it'll help serve as a base for you to build the rest of the party around (decor/food/activities/etc).
Some of our favorite themes include:
**Secret Santa
((Secret Santa Ideas For Coworkers:))
https://www....-santa-gifts/
**Ugly Sweater
((15 DIY Ugly Christmas Sweaters:))
https://www....mas-sweaters/
--give out prizes for: ugliest sweater; best homemade sweater; etc...
**Christmas Around the World
((Christmas Around the World Party Ideas:))
http://www.t...oliday-party/
**Painting/Art themed
Use the actual painting party as your theme! We'll be creating art in an art studio so a lot of the work is done!
((Here are some ideas for decor and food for an 'art' themed party... the ideas, shown, are used at a child's party but they can be applied to any party!!)):
http://seeva...ing-birthday/
#5-Food and Drinks:
We have plenty of wine to go around at our studio, making that one less thing you have to provide! (We can have non-alcoholic drinks, on hand, as well). Just think about how you want to handle the food! There are tons of places that cater (ask us for recommendations when you book the party!). That avenue certainly takes a lot off your hands!! You could always do the classic 'pot luck' style of food, too! Have everyone bring a dish, so there will be plenty of food and everyone contributes in some way; Remember your theme if you have one-- for 'Christmas Around The World, everyone could bring a different type of food from other counties!
#6-Music,Activities/Games:
(All of the little extras): However involved you want to get... however many special, extra components you'd like to add to the event is up to you!
*Music: If you want to have a special playlist for us to use for at party, with songs everyone will enjoy, or perhaps, ones that everyone from the office added to the list, go for it! You can ask us to play a Pandora holiday station, as well, for the classic Christmas party feel!
*Games/Activities: Build in some extra time for games or gift exchanges, when you set up your party! Make it a 3 hours party...choose a 2 hour painting, and add an extra hour for eating, conversing, and playing a game!
-Secret Santa gift exchange
-White elephant gift exchange
-Holiday song karaoke
-Holiday party games
(Find ideas here:)
https://www....mes-2017/amp/
...and more!!!
____________________________________________________________________________________________________
We hope to see you this holiday season! We love helping people have a wonderful time and get creative! If you aren't sure about the studio for a party, come in to one of our public classes and see what we're all about! Sign up on the link, below, to view the calendar and register for a class! We think you'll really enjoy it and would love to bring your family or work crew in for a night out! Bonus: you won't have to invest the time and money in a party favors... the beautiful paintings your guests will create will serve as a constant reminder of the fun time they had at Pinot's Palette!
"All of the instructors were very helpful and gave good suggestions. I enjoyed this class a great deal. Thank you." - Gayle Schaub
Share Learn more about our private parties! | Sign up for a public class and see what we're all about!
Enter your contact info and request details below, and we will contact you with details about your private party!