Top 5 reasons to host team-building at Pinot's Palette
Top 5 reasons to host team-building at Pinot's Palette
Teambuilding – a word that evokes both cheers and jeers! Images of trust falls and icebreakers immediately come to mind. If you are looking for fresh ideas for building relationships and trust within your team, Pinot's Palette has a program for you! Pinot's Palette in St. Louis Park is a locally owned paint and sip venue that specializes in holding corporate events, team building sessions and private parties. The drink and paint model provides unique team bonding experiences – here are the top five reasons to book your experience today: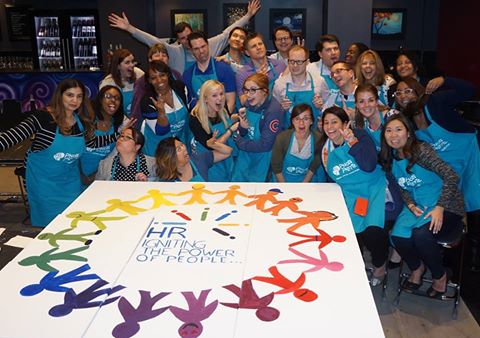 1) Escape to a different environment
The Pinot's Palette facility is designed to foster creativity from the minute you walk in the door - it's a complete escape from your work surroundings. A combination of bar, restaurant, and artist's studio, we are set up to help your employees leave work at the office, and focus on the team activity.
|
2) Problem solving in a safe environment
Is your team struggling to solve a problem? Our facilitators have a menu of activities designed to work towards your specific goals. Our Pinot's Palette Jigsaw Puzzle Activity recognizes each team member's individual contribution to a larger project, while the Musical Chairs activity mimics an unpredictable business environment and allows your team to enjoy the process of adapting in the moment.
|
3) It's a one stop teambuilding shop
No need to arrange with multiple venues and vendors for a fun event with your team! We offer several food and drink options – from a cash bar and snacks to a full eat, sip and paint package. There's no need to rush the session to fit everyone's demanding schedule, your team can enjoy happy hour while they are painting their creation.
|
4) Watch Trust increase and new relationships form
We see it every time we host a group like yours - there's something magical about putting a group of co-workers in an art studio, serve them a beverage and let them create! While they drink and paint, people chat about work, family, and life in general – they get to know each other on a different level. Competition from the office fades while everyone creates their own masterpiece. Since you are all on a level playing field – there's no manager or subordinate – you are all amateur painters while you are here.
|
5) You create your own souvenir of your experience
No need to buy trinkets or keepsakes to remind them of the day – you make your own! Whether you bring your art home, or back to the office –each time your team members look at it, it will be a unique reminder of the team building lessons learned, and a fond memory of your one of a kind experience at Pinot's Palette in St. Louis Park!
|
If this sounds like a solution to your teambuilding needs, Give us a call 612.440.6744
or fill out an inquiry form online:
https://www....porate-events
"Our work team of 50 needed a unique spot for team building and thankfully we selected Pinots Palette! Everyone enjoyed painting, even those who didn't think they would, as Jessica made it easy, approachable and fun. The staff was very service oriented and created a warm environment. The space worked well to enjoy food and refreshments, mingling and of course the painting. We hope to go to PP again! " - Jan Dick Minnesota's Heart Institute Foundation
Enter your contact info and request details below, and we will contact you with details about your private party!