Why Not Host Your Next Corporate Event At Pinot's Palette St. Louis Park?!
Engage Your Employees In Their Work AND Play...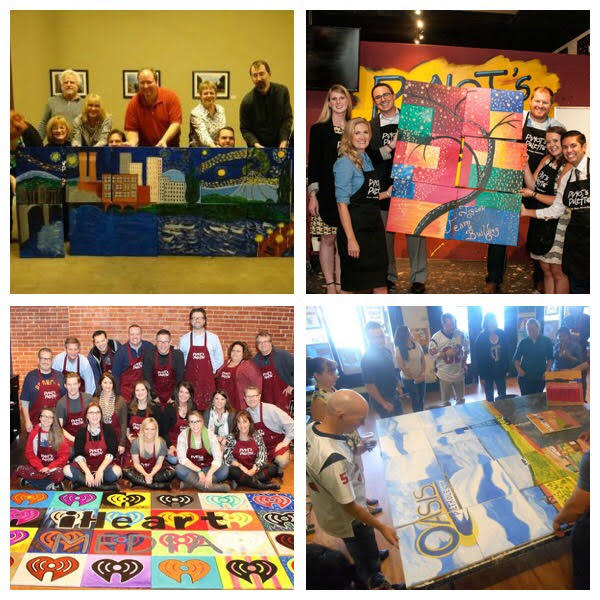 The corporate world is steadily changing with the times AND the new generations. Individuality and creativity are encouraged in many job environments, these days, and there are a lot of incredible reasons why this works so well.
More and more companies are adapting their employees' work and learning styles in a modern way. Letting workers feel that they are truly a part of the company and it's success is a huge deal, with many positive outcomes, for everyone involved.
Whether you're the boss or an employee, it's important for you to understand how "engagement" in your position, and with those around you, can make a huge impact in your job. With countless articles written, and research showing, how "engaging" your employees can mean big things in the overall productivity and growth of the company, it's worth at least, taking a look at some of the findings.
Start slowly and incorporate some small changes into your office and see what happens. Who knows how much of a positive impact those small changes could make?!
Aside from sharing with you, some of our favorite advice and proven statistics on the subject, we'd like to offer some of the best ideas for encouraging your employees to engage with their work, their coworkers, and you!
*Keep in mind that these are just a few of the many ways to engage your employees. There are so many effective, proven, and simple tactics for helping your workplace to be healthier and more positive!
If you're wondering, 'How can I actively engage my employees?', here are a few suggestions:
(1) COMMUNICATE WELL AND OFTEN.
*"Training sessions, memos, newsletters, FAQs, and regular meetings can all be used to present your vision to your employees. Make sure to ask questions, and if they are confused, redesign the way the information reaches them.
Perhaps the most important part of a good manager's job is communicating effectively. Creating a culture of communication in which managers and employees share common goals and work together to meet them can boost a company up and even save it, should it end up in a downfall."
(2)GIVE EMPLOYEES WHAT THEY WANT AND NEED.
*"Don't just assume that each and every one of your employees has all the tools, training, and support from supervisors they need –check in with them personally and find out."
Some of the things all employees want (and need) are:
-Recognition. Employees want to be recognized for a job well done and feel appreciated, like they and their work really does matter.
-Positive Environment. They want to work in a healthy, safe, and nurturing atmosphere. They want to be heard and receive responses about any complaints or ideas they come to the boss with, as well as receiving help in achieving a work/life balance.
-Truth. Employees want to work for someone honest and transparent, who shows integrity. They want to know that they are working for someone who will tell them what needs to be told, communicates directly, provides honest feedback, and sets clear goals.
(3) ENCOURAGE CREATIVITY. (*and remember to have fun!)
*Just because it's "work", doesn't mean there can't be some fun had in the process! Think about ways people could open up and actively contribute to their work in a way that they WANT to!!!
"Being creative at work generally means taking risks, which might make you hesitate. Fear of the unknown is a powerful thing, especially when it means you might fail.
But here's the thing: Creativity in the workplace is absolutely important. If you can apply creative thinking to your everyday work life, you'll find that not only will the day stop feeling like drudgery, but you'll be unlocking more meaningful results. And this doesn't just go for employees, but for managers as well–in fact, managers have the ability to be the conductors of creativity in their staff. Sometimes it has to start from the top!"
*Please check out some additional, in-depth information listed on the link at the bottom of the page!
**Give some of these concepts a try and see what you think!
__________________________________________________________________________________________________________________________________
Want another great idea for inspiring creativity and comradery in the whole office?!
Come in to Pinot's Palette for a private, corporate paint party for your next work outing!
We offer private events for anyone, interested, but most often, we have corporate groups come in to paint!
At our private events, we let YOU decide on everything! You'll pick the date and time, the painting, the guest list, and the food and drinks of your choice! We offer several styles of parties, many of them are excellent choices for a team-building event, that the whole office will enjoy!
(*Note: Food choices can be recommended if you choose to cater, or you can bring in your own food, potluck style, etc- we don't provide the food, but are here to assist in any way with it, if you need. Wine choices and prices will go through our studio, allowing you to select which wines you want for the class and how you wish to pay, etc).
What are some of the different styles of painting classes we offer?
* We offer our standard style of painting class where every individual gets a 16"x20" canvas and paints along with the artist's instructions, step by step. Individuals can change their paintings to make them their own, using their own color choices, style, adding things into their masterpiece, etc.... this is always a great option, but if you're looking for something pertaining to a corporate/team building event, we have other options, as well:
* For more of a bonding and socializing experience, you can try one of these options:
-Collaborative Painting:
All members work together on a large canvas or a collection of large canvases, to create one large piece of artwork that everyone came together and helped to create!
-Puzzle Painting:
Another way your team members can work together and constantly communicate to create a very large painting, made up of multiple, individual canvases! Each person (or group of people, depending on the way you'd like to go...) will paint a section of the overall painting and at the end of the class, all of the canvases get pushed together to form one whole painting!
(*This tends to be one of our most popular corporate selections, especially if you have a large, blank wall in the office that needs some artwork!) There's something so incredible about individuals working together to each create one small piece of an overall product... much like how they all contribute in their own way at work, but it all comes together to help their company in one way or another!
-Mystery Painting:
Another fun one! In this scenario, the boss or person in charge of planning the event may select the painting but no one knows what the final product will look like until they are finally finished at the end of class!
-Musical Painting:
Much like musical chairs, you sit in a seat for a direction or two, then the artist asks everyone to stand up and move to another seat of their choice or can even utilize the music as guests walk around and have to sit when the music stops! This is another fun way to have a collaboration-style painting class where multiple people work on one canvas to create a final masterpiece in the end.
*this is another one that the party planner can decide upon before arrival and keep secret until the first move!
Whichever painting you choose to create, whatever you eat and drink, and whichever way you select to host your party... it will be an outing, everyone will remember! To come together, spending time with coworkers in a relaxed environment, and getting to know more about each other, is amazing. It does such wonderful things for team comradery and allows everyone come out of their shell, show their creative side, and enjoy the company of one another.
If you live in or around St Louis Park, Minneapolis, Edina, Minnetonka, Bloomington, or St. Paul, come in for a class and see what we're all about! Try out a class with your significant other or best friend before committing to a party booking, if you'd like!
We think you'll love it so much, and will be eager to bring everyone you know back to try it out!
Perhaps you're in charge of planning the office holiday party this year, why not do something unique and special?!
Send everyone home with an amazing souvenir masterpiece that they made, and will be able to hang in their home forever.
**Learn more and sign up, on the link, listed below. Please feel free to call, email, or stop into the studio with addition questions, as we are more than happy to help!
We hope to see you soon, and can't wait for you to book your next Corporate event with us, here at Pinot's Palette in St. Louis Park!
"Thanks to Mila Krol and her team's professionalism and creativity, our "Meeting Meal Mixer", a Customer Appreciation Event was our best event yet! It was a great way to bond, mingle, and build long lasting relationships with our customers. " - Emilia Kvasnik
Share Check Out Information On Booking A Private Event! | Find More INCREDIBLE Information About Engaging Your Employees, HERE